AI In Hospitality Marketing: A Complete Guide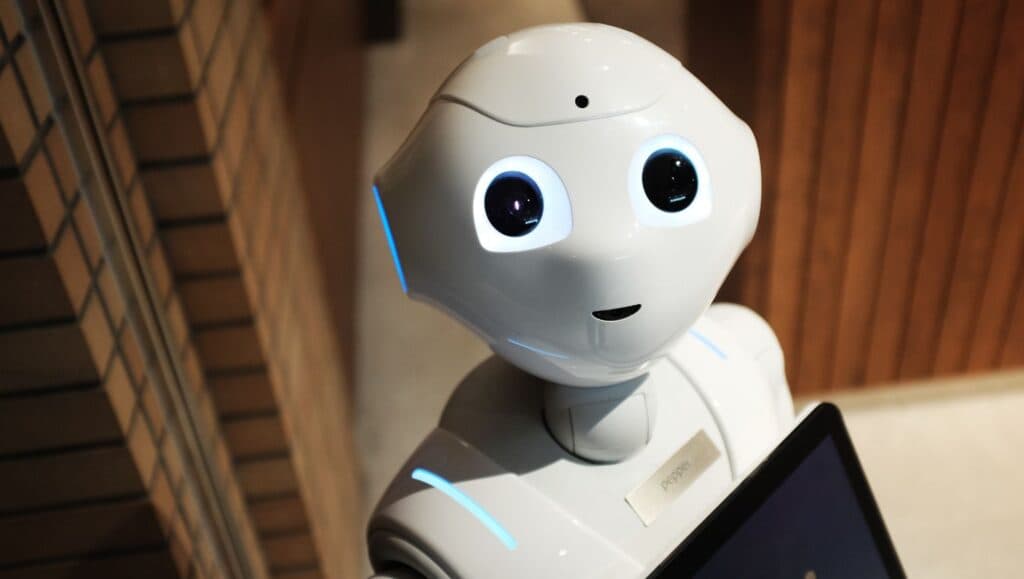 More and more hospitality operators are looking to take advantage of AI-driven marketing solutions as an opportunity to streamline their operations and support their staff.
In this guide, we will explore how hospitality operators can utilise AI to strengthen their marketing efforts, increase the visibility of their brand and drive growth at every stage of their customer journey. 
From gaining AI-driven customer insights, and leveraging marketing automation, to in-depth data analytics and predictions. There are plenty of ways AI can be implemented in various areas of the business.
Now is the perfect time to jump on board with integrating AI into your hospitality business's marketing plans. 
AI in hospitality marketing
Artificial intelligence (AI), is the ability of computer systems to perform tasks that would usually require human intelligence.
In recent years, AI has revolutionised the hospitality industry, providing ample opportunities for businesses. 
For instance, AI can quickly analyse large amounts of customer data to gain insights into preferences and behaviour. This can be used by staff to tailor the service and marketing campaigns. I.e. greeting a hotel guest with his favourite cocktail upon arrival or treating a customer with a restaurant voucher for their birthday.
In addition, AI can adapt the pricing strategy depending on the current market situation and provide future predictions. Managing and responding to online reviews also becomes much easier with AI tools. To name just a few, we will have a closer look at those and others in this guide.
Overall, by using AI in marketing, hospitality operators can create a seamless guest journey from the moment the customer first interacts with their brand, to the point they come back to the venue. This all leads to higher revenue and customer satisfaction.
Advantages and disadvantages of AI
It is important for operators to weigh the pros and cons before deciding to incorporate AI into their business operations. We have summarised the most relevant ones in this short list below.
You can find a more extensive list in this article.
Main advantages:
Increased operations efficiency and productivity. AI can streamline and automate repetitive tasks.
Cost reduction. AI allows for data-backed decision-making.
Tailored customer experience. AI provides insights that support personalised marketing and service.
Accurate forecasting. AI can identify revenue opportunities.
Main disadvantages:
Impersonal service. AI lacks the human touch that many guests desire.
System failure. Operators are highly dependent on their digital tools to work seamlessly.
Technical limitations. Not all AI tools are able to cater for the needs of the hospitality industry.
High investment costs. Implementing AI is often a major investment.
AI as a growth tool for hospitality
AI technology is undoubtedly a growth tool for the hospitality industry, and those who successfully embrace it will thrive in the long run. 
Here are 4 ways it can support different areas of the business.
1. Operations
AI technology has vastly improved the way hospitality operators conduct their daily operations and provide service. 
Chatbots are a great example, as they can scan common customer queries and answer them in real time. This relieves staff of tedious, repetitive tasks, while still ensuring customers receive an excellent level of service around the clock.
Hotels are also increasingly leaning on AI for contactless check-ins and virtual concierges, making sure guests get the most out of their stay. Self-service kiosks in restaurants on the other hand allow customers to place orders more quickly and efficiently. Again freeing up staff time for other duties.
2. Marketing
AI can massively improve the way hospitality businesses communicate with guests and market their services. It can gather a multitude of data points in one place, coming from tech tools such as Guest WiFi, table booking platforms or loyalty scheme. 
Marketers can use the data to better understand customer preferences, habits and needs. This then allows them to provide a more personalised experience, offer relevant promotions and optimise their marketing campaigns for maximum results.
With AI automation, tasks such as uploading data are made simpler and faster. This frees up time and reduces human errors. Trigger-based campaigns based on previous customer interactions can also be easily automated. Such as sending discounts to customers who haven't been at your venue for a while. 
Lastly, AI can power up digital advertising by helping with audience and campaign optimisation. On top, it can monitor social media channels for brand mentions and engagement. 
3. Sales & revenue
There is promising potential for integrating AI to improve sales too. 
AI can analyse customer data to predict their preferences and suggest personalised recommendations. Equipped with these insights staff can better upsell and cross-sell when customers are in the venue. Marketers as well can take advantage of this with highly targeted campaigns that lead to higher conversion rates and ultimately create more sales opportunities.  
AI can further be used for improved revenue management for hotels and restaurants. It creates accurate forecasts by analysing past data as well as external factors such as market fluctuations. 
This enables operators to adjust their pricing in real time. So they can take advantage of peak periods while still remaining competitive during off-peak times.
For hoteliers, this also means that they can ensure guests always get the best price when booking direct.
4. Data analytics & reporting
By using AI to generate accurate reports hospitality businesses can become more successful in the long run through leveraging data-driven insights into customer behaviour. So that they don't rely on guesswork anymore.
A lot of, usually manual, tasks can be automated as well. Such as the creation of monthly reports or the building of customised dashboards with the metrics that matter.
AI can present the data in a way that is accessible to the entire team and that also facilitates performance analysis from relevant KPIs.
3 AI use cases for hospitality
There are already examples of hospitality businesses successfully implementing AI and it's likely that more will follow suit in the coming years.
We've summarised 3 popular use cases for AI marketing and operations below.
If you're a hotelier you can find more relevant examples here and we also got some, especially for restaurant operators here.
1. Personalised service
AI enables hospitality marketers to create a personalised customer experience with ease. Through the smart analysis of customer data, AI can segment customers into small groups according to patterns, demographics and historical interaction.
This empowers businesses to deliver targeted marketing campaigns that resonate with individual customers, helping them feel appreciated and increasing loyalty. 
AI also helps to detect and retain lost customers through automated campaigns that are triggered by pre-defined conditions.
2. Content creation
AI technology can be used to quickly generate various pieces of content. This ranges from email campaigns to social media posts and website copy. Plus, it can translate content into multiple languages so you can reach wider audiences. 
AI algorithms can also analyse the most engaging social media posts and create similar ones. Plus, it can also determine the best posting schedules, hashtags and content for various platforms to grow engagement and followers.
When it comes to website content, AI can improve SEO rankings and develop search engine-optimised content by incorporating relevant keywords. 
Another example is restaurant menus. They are often seasonal and need to be changed on a regular basis. AI can support operators to come up with enticing menu descriptions and iterations to speed up the process.
Check out this article to find out more about how you can create more hospitality marketing content in less time with AI.
3. Chatbots
As already mentioned, hospitality operators are now discovering the value of AI-powered chatbots in providing better customer service that is available for customers  24/7.
Chatbots can be used for a variety of tasks. Common examples are answering FAQs, taking orders in restaurants and helping with general service requests. 
Plus, they can act as a concierge and support customers with their travel planning by making personalised recommendations based on past interactions.
With the ability to integrate with voice assistants like Alexa or Google Assistant, hospitality operators can further create a more human experience and eliminate the typing for customers.
With these advanced capabilities, hospitality operators can enhance their services while also improving staff efficiency. All without ever compromising on guest satisfaction.
How AI can improve reviews management
Online reviews play a crucial role in attracting customers. However, managing these reviews can be a daunting and time-consuming task for busy hospitality operators. This is where AI comes in to lend a helping hand with your reputation management. 
For example, it takes over previous manual tasks done by staff. So instead of analysing each review platform separately and dealing with spreadsheets, AI can automatically gather all reviews in one place. This allows for quick access and a multi-channel overview. Reviews can be dealt with more efficiently and progress on each response can be tracked easily.
To avoid further complications, operators have to react to reach review in a timely manner. This way they can retain unhappy customers and show that their opinion matters to the business. 
Depending on the number of reviews flooding in it can be challenging to keep up. With automated response generation, AI can help operators to better handle their to-do lists. Based on keywords AI can generate a personalised reply in no time.  
Further, AI-powered sentiment analysis can provide operators with valuable insights into customer feedback. It can detect common themes and tag them accordingly. This enables businesses to quickly identify areas for improvement to enhance their service.
With AI, hospitality operators can better stay on top of their online reputation, and improve their overall scores and customer satisfaction.
If you want to find out how AI can also make it easier for customers to leave a review, check out this article.
Summary
AI is a very beneficial tool that hospitality operators should look to explore and utilise to back up their marketing strategy. 
AI technology has tremendous potential for increasing speed and accuracy in data collection and analysis. This allows operators to provide more tailored services for their customers based on what they've learned from past engagements. But also to make accurate predictions and more informed decisions which will save them time and money.
Moreover, AI can be used to aid in developing marketing content, automating and supporting daily service operations and improving reviews management.
There may be valid concerns around its adoption cost and potential impact on losing the human touch. Though, when leveraged correctly, AI can have significant positive impacts on your hospitality business.