3 Clever AI Tools To Support Your Hotel Operations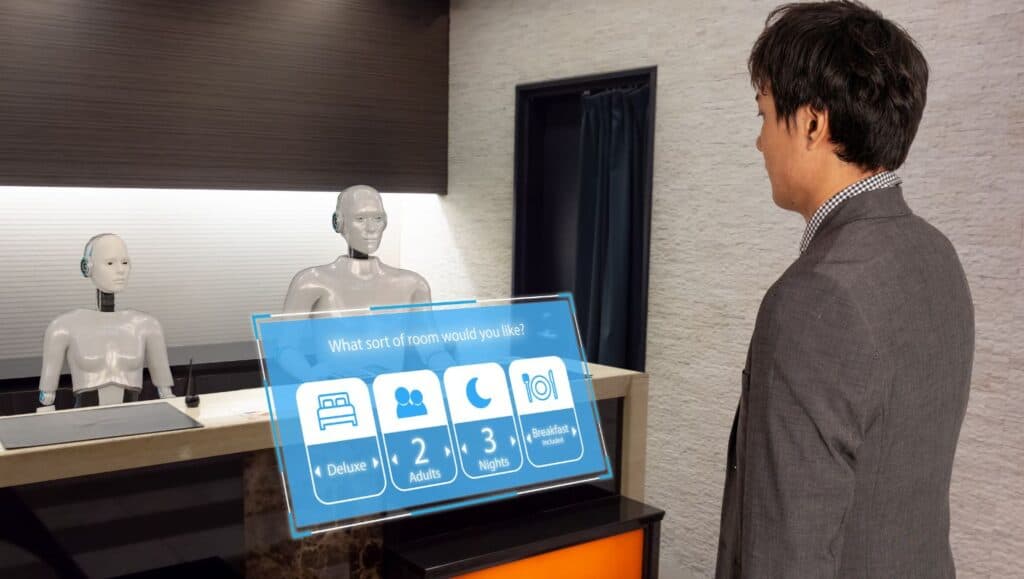 As a hotel owner or operator, you know that improving the customer experience is essential to achieving revenue growth. But how can you make sure your customers have the best stay, from start to finish? 
With advancements in artificial intelligence (AI), there is now a range of clever tools available to help you provide an unbeatable service and give your guests an exceptional stay. 
In this blog post, we'll take a closer look at 3 AI tools and how they can benefit your hotel operations.
1. Concierge tasks
Imagine walking into a hotel and seamlessly being guided through the check-in process without having to wait in line. AI tools can massively speed up the process of check-in/out and overcome potential staff shortages. This prevents potential customer complaints from the beginning.
AI tools also come in handy to assist guests with planning their stay. Such as organising travel or event arrangements, making restaurant reservations or ordering room service. 
What's more, AI can gather customer insights and preferences to create a full customer profile. This information is then used to offer personalised recommendations tailored to each individual for a more enjoyable and memorable stay. The possibilities for using AI as a concierge are endless and new features are added continuously.
2. AI revenue management
Revenue management is crucial for maximising profits but is often a complicated, time-consuming and manual process. Hotels can now use AI tools to get an edge in the market.
By analysing historical data and taking into account external factors such as market fluctuations, third-party booking platforms, as well as global trends, AI systems can provide accurate forecasting. This allows operators to make smarter pricing decisions and drive direct bookings.
For example, they can set dynamic pricing based on demand and occupancy. This enables them to charge more for rooms during peak periods and less during off-peak periods. The result is a more balanced occupancy rate and more revenue overall. 
3. Sales and MICE travel
As business travel continues to be an essential aspect of the global economy, companies are constantly seeking ways to attract more clients in the MICE sector.
With the advancement of AI tools, hotels can now utilise this technology to analyse the market and find potential opportunities. This helps them to better approach potential partners and clients. On top, AI facilitates the management of group bookings by pulling all relevant contacts and company accounts into one place.
Additionally, AI can support the content creation of personalised sales pitch desks and presentations that are tailored to the needs and requirements of each client.
Summary
AI can help bridge the gap between operations and customer satisfaction by streamlining processes for hotel staff and taking over support and assistant tasks.
Hotels that invest in AI tools have an edge over traditional hotels, utilising AI in multiple areas such as concierge tasks, revenue management and sales support.
Not only will these initiatives provide guests with a better experience, but they will also help increase revenue in the long run. As we all know, today's highly dynamic market requires hotels to be agile and adaptive in order to stay competitive. 
Make sure to check out our full guide exploring AI for hospitality marketing.