4 Best Restaurant Table Booking Software Compared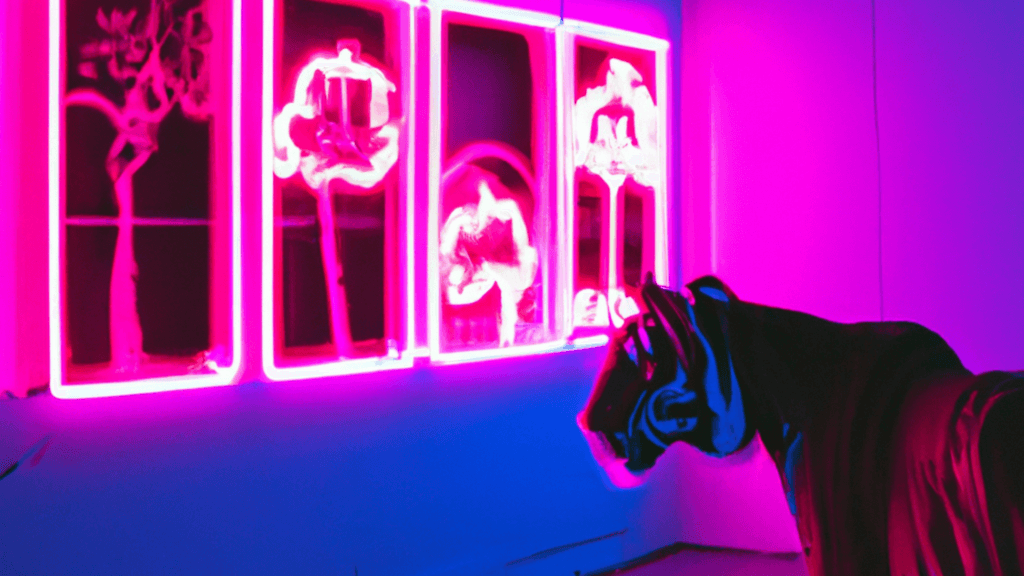 Update 23/01/2023: Content related to ResDiary has been removed from this article.
Maybe you've just started looking into implementing a restaurant table booking software in your venue or maybe you're not happy with your current one.
Nevertheless, you'd most likely be after the best booking platform that is out there.
Though, as is the case with all digital tech tools, there is a wide range of booking software available. So which is the best one for your business?
How to find the best UK restaurant online booking platform?
First off, it's not about finding the best online restaurant table booking software available that comes with tons of features and nice little extras. 
It's about choosing the most suitable one for your business that aligns with your goals, top priorities and internal processes.
On the same note, the most expensive software doesn't necessarily offer the best value for money. There might be more affordable providers that better suit you. 
Think about what you'd expect from a booking system. What is needed to secure you more bookings and manage them more efficiently? How can it help you enhance your customer experience?
Which restaurant reservation software is the right one for my business?
To make your choice a little easier, we've compared and reviewed 4 of the best restaurant booking systems from leading providers. 
OpenTable
SevenRooms
DesignMyNight
Stampede
The table below compares them against must-have key features. Not all features are available in the basic plan though, those that come with additional costs are coloured in orange.
---
| | Stampede | OpenTable | [REDACTED] | SevenRooms | DesignMyNight |
| --- | --- | --- | --- | --- | --- |
| Price from | £99 /m | £179 /m | | US$499 /m | £125 /m |
| Additional Fees | extra locations | extra locations + reservations fee + commission | | extra locations | Need Access Collins + extra locations |
| Table Management | 🟢 | 🟢 | | 🟢 | 🟢 |
| Waitlist | | 🟢 | | 🟢 | 🟠 |
| Capacity Management | 🟢 | 🟢 | | | 🟢 |
| Smart Seating | 🟢 | 🟢 | | 🟢 | 🟢 |
| Calendar View (BoH) | 🟢 | 🟢 | | | 🟢 |
| Branded Reservation Landing Page | 🟢 | | | 🟢 | |
| Pre-payment/Deposit | 🟢 | 🟢 | | 🟢 | 🟠 |
| Yield Management | | 🟢 | | | |
| Custom Email/SMS (Confirmation) | 🟢 | | | | 🟠 |
| Automated Email Marketing | 🟢 | 🟠 | | 🟠 | 🟠 |
| Reviews / Feedback | 🟠 | 🟢 | | 🟢 | |
| Customer Tags / Notes | 🟢 | 🟢 | | 🟢 | 🟢 |
| Discover / Promote Your Business | 🟢 | 🟢 | | | 🟢 |
| Statistics and Reporting | 🟢 | 🟠 | | 🟢 | 🟢 |
| Multi-Channel Booking Links | 🟢 | 🟢 | | 🟢 | 🟢 |
| CRM Integration | 🟢 | | | 🟠 | 🟢 |
| POS Integration | | 🟢 | | 🟠 | 🟢 |
| Mobile App | 🟢 | 🟢 | | 🟢 | |
| Offline Mode | 🟢 | 🟢 | | 🟢 | |
---
Besides those key features, there are other characteristics an online booking system should have.
In the next section, we had a look into 5 questions that go beyond covering the key features. Those will help you determine what matters most to your business and to make an informed decision.
1. How easy is it to use for staff & customers?
An unsuitable booking system can quickly become overly complicated and difficult to use for both your staff and customers. 
With a complex reservation platform, training new staff members takes up a long time. On a day-to-day basis, your team might feel defeated when using it which increases the chances of booking errors, leading to unhappy customers.
The same applies to your customers. When making an online table reservation becomes a challenge they get frustrated and might decide not to book after all and turn to another venue instead. 
As a result, many companies end up back on the hunt for a new, better-suited platform.
For staff:
A table booking system should save your staff time, streamline your operations and make your guest management more effective. 
You'll want to get a quick and aggregated overview of all upcoming bookings. This is especially important for venues with a large number of tables. 
Besides this, the platform should allow you to quickly access and amend bookings. Also, real-time, automatic updates are handy so that you don't miss any new reservations.
From a back-of-house management perspective, have a look at the provider's reporting section. How easy is it to navigate and build reports? Ideally, your staff should be able to view relevant operational and booking-related reports at one glance.
The ease of updating your settings also factors in here as operating hours, table layouts, etc. might change from time to time.
The reservation software has to be reliable. You want to be able to manage your bookings offline, in case your internet connection stops for some reason. A mobile app or tablet version is also useful for better management by on-the-move servers and other front-of-house staff.
If you're using other tech tools, make sure you can integrate them into your new restaurant diary management software. This means you can use the customer data from your bookings to power your marketing campaigns and drive repeat visits.
In addition, the best platform is one that provides first-class customer service to support it. Factors to consider are:
How responsive the providers are to any issues
How easy is it to get in touch
How long does it take them to resolve them
For customers:
Another important, but often overlooked, factor when it comes to choosing the right restaurant table booking software is your customers' experience.
Have a look at the user interface from a customer perspective. Is it pleasing to the eye and naturally easy to use? Also consider mobile accessibility, as the majority of customers will book via their phones.
An online booking platform should be intuitive to use. All the main booking information, such as available slots, should be clearly displayed. A calendar view works best in this case. 
The fewer steps that are needed to complete a booking the better will be your customer experience. Customers should also have the option to leave additional notes or requests.
2. Does it allow for customisation and branding?
A unified digital brand experience along the customer journey allows you to achieve a higher level of brand recognition and awareness. This in turn builds trust and familiarity, increasing the likelihood of customer loyalty. 
The goal is to put the brand in front and centre across your digital tools. A branded booking widget on your website, featuring your own logo, colours and images, is therefore essential. 
Customisation is also vital for a table booking platform. Can you customise and personalise the emails and SMS messages to customers or are there only generic versions available?
Likewise, check that the platform has the flexibility to enable the settings you need for your unique need without custom coding.
Bear in mind, a high degree of personalisation results in a higher engagement and response rate. Which ultimately drives loyalty and repeat bookings. 
3. What marketing and communication tools do they offer?
No-shows are a big issue when it comes to managing table bookings and can result in major revenue losses. A reservation platform should therefore equip you with communication tools that help you prevent no-shows.
One such feature is email and SMS marketing. Most of the providers focus on basic email communication only, however, SMS messages come with a high open rate of 98%. This makes it highly effective for booking reminders.
To save you time, make sure there is an automation option available. This way you can automate your booking confirmations and reminders and don't need to worry about it anymore.
An additional time-saver to look out for is email templates that you can use ready-made or adapt if needed. In general, it is recommended to have separate templates ready for confirmations, cancellations, reminders and booking changes.
Another powerful tool that goes beyond basic booking communication is bulk email marketing. It allows you to stay in touch with customers well after their initial reservation and helps you retain them with personalised and relevant offers. Ideally, this feature should include a drag-and-drop builder for an easy and quick email setup.
Furthermore, to create more meaningful and successful email marketing campaigns customer data segmentation is vital. Check, if the platform lets you mix and match different segments with data coming from other sources, too.
4. Are there any add-ons available?
A booking platform becomes even more powerful when you mix it with other growth features. What you are looking to create is a synchronised booking CRM to unlock your marketing potential and grow your mailing list.
Common add-ons to look out for:
Customer feedback systems
Online reputation management platforms
POS integration
Gift vouchers
Loyalty or stamp card program
Events ticketing
By combining those various tech tools and the data they provide you can build detailed customer profiles. Customer insights can then be used for tailored marketing to increase your covers and drive revenue. 
Here're some clever data combinations and campaign examples:
Customer has been at the venue (WiFi) but not booked online yet (booking) -> Welcome or early-bird booking offers 
Customer has been at the venue and has left negative feedback -> Win-back campaign with a special offer
Bookings & Loyalty:
Regular online booker but not signed up for loyalty program -> Limited loyalty sign-up offer
Frequent booker and high spender -> Thank you offer and referral deal
A lot of restaurant table booking software providers work through integrations. However, quite often those are poorly set up and overly complex. 
Plus a lot of manual tasks are still required to make them work in sync. Not to mention the security risks associated with storing data in too many different systems.
A better option is an all-in-one solution that removes the need for any integration. These come with their own booking system with an inbuild marketing system and a native CRM.
5. How innovative is the provider?
The last area to consider when choosing your online reservation system provider is innovation. What do we mean by innovation though? 
Here're the key things to look for:
Regular updates to improve the platform in line with the latest tech developments
Release of new features and add-ons
Fast reactiveness to industry developments, i.e. new device screen sizes and software update compatibility 
Pivotal company culture
Often, there's no one size fits all. Your venue might have some specific requirements the reservation platform has to cater for. This could be a focus on group bookings, different outlets or floors, event ticketing, etc. 
So, check if the providers are able to come up with tailored solutions. The latter is often found in agile companies that build their reservation systems in-house.
To finish off, we scored these 4 restaurant table booking software providers from above against those questions to give you a quick overview of each product.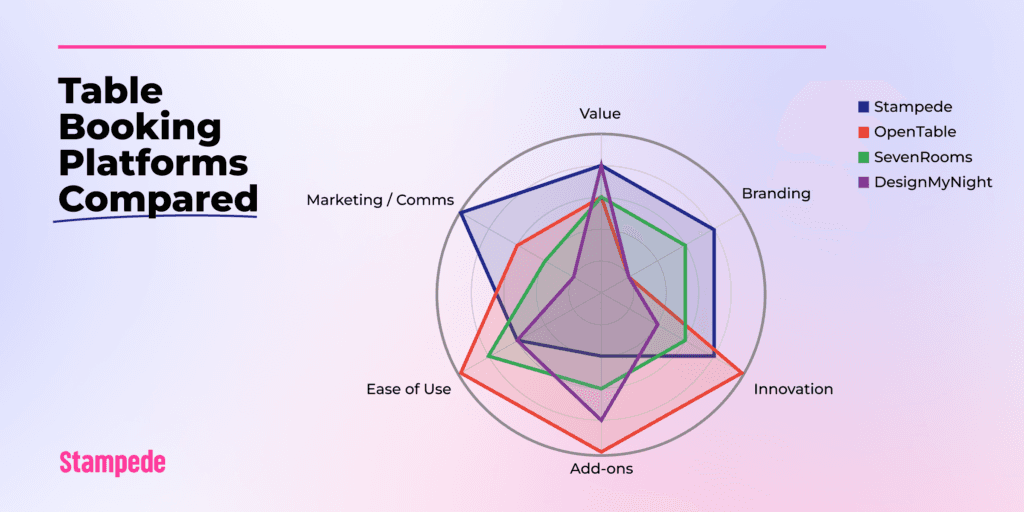 ---
---