What Is A Hospitality CRM System? A Full Guide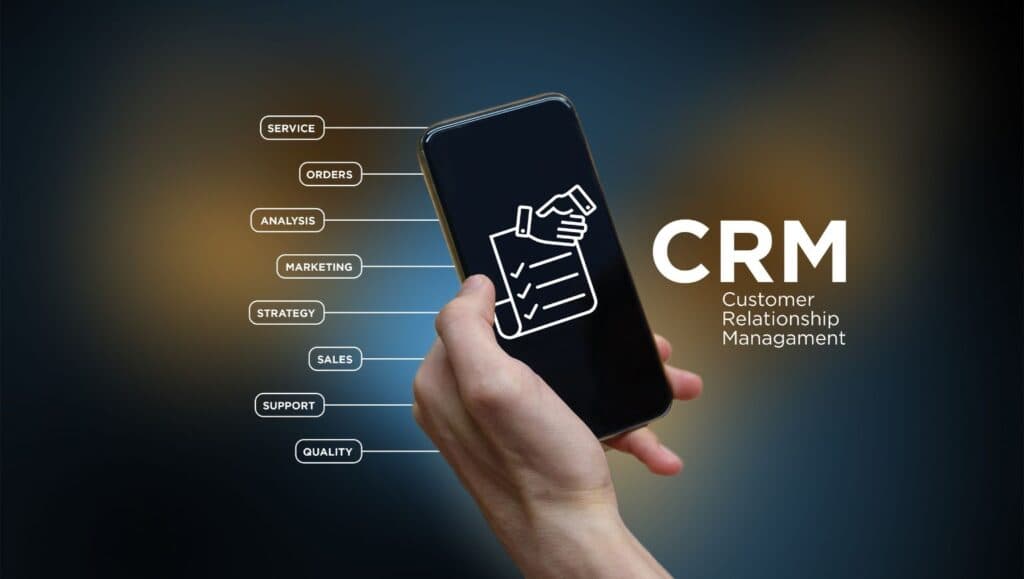 A Customer Relationship Management system (CRM) is an invaluable and powerful technology tool for hospitality owners and operators to maximise the customer experience and reach their business goals. 
But what exactly do we mean when we talk about CRM systems for hospitality? 
In this post, you will learn all there is to know about this topic. Starting off with a definition, to features and benefits as well as tips on how to choose the right one.
In case you have unanswered questions left, we'll also address common FAQs at the end of this guide.
What is a CRM system?
A CRM system is a tool used to manage interactions with existing customers and potential customers. It allows businesses to better track and organise customer data, such as contact details, purchase history, and other interactions.
Hospitality businesses of all sizes can benefit from a CRM solution, from small restaurants to large hotel groups. In the hospitality industry, it can be particularly valuable as a streamlined way to collect and analyse customer data coming from different sources. This could be your Guest WiFi, your loyalty scheme or your table booking system.
By understanding what guests are looking for, hospitality businesses can create unique experiences that meet individual needs and preferences and keep customers coming back time and again. 
With the right CRM platform, hospitality operators can also access valuable insights into customer preferences and behaviours over time. Those can be used to drive business decisions.
Ultimately, this clever tool helps hospitality businesses build long-term relationships with customers in order to increase repeat visits, boost word-of-mouth referrals, and maximise revenue.
CRM key features
In today's business landscape, understanding your customer is essential for long-term success. That's why CRM software continues to grow in popularity, especially since it can provide a wide range of benefits to your business. 
Here are some of the key features of a CRM:
Customer profile management allows you to gather and store customer information to help create more targeted marketing campaigns. 
Interaction tracking helps you monitor customer activities and preferences, enabling you to tailor your messaging for greater impact.
Automations simplify your sales and marketing processes and reduce manual workloads.
Reporting and analytics provide you with insights into your business's performance, allowing you to optimise your operations. 
Third-party integrations expand the capabilities of your CRM, allowing you to connect to other systems and tools.
Hospitality businesses have unique needs when it comes to CRM, and the features that matter most will depend on the size and type of business. 
For instance, a hotel might find value in features such as loyalty programs, reviews management and revenue optimisation tools. 
Restaurants may benefit from features like table booking management, event planning, and automated marketing. 
Additionally, hospitality operators will likely find value in having access to comprehensive customer profiles and powerful analytics and reporting tools. 
What are the benefits of a CRM for hospitality operators?
Without a CRM system in place, hospitality businesses may struggle to keep track of their customers and understand their preferences. 
This can lead to errors such as sending promotional materials to the wrong customer. But also not having enough information about an individual's interests to tailor the promotions and offers for them.
Furthermore, businesses are unable to accurately measure the effectiveness of their marketing campaigns and customer engagement strategies. As a result, businesses may not be able to capitalise on opportunities for growth or improve their customer service.
By investing in a CRM solution, hospitality operators can be more efficient in their operations and optimise their customer experience. Automations enable businesses to streamline processes, saving time and money while allowing them to focus on providing quality service. 
Additionally, CRMs allow venues to track customer interactions and activities in real-time. This gives them the ability to respond quickly and anticipate customer needs. 
By leveraging analytics and reporting capabilities, operators can gain valuable insights into their customers' purchasing habits, preferences and interests. This data is essential for optimising marketing campaigns to ensure that resources are used in the most efficient manner. 
In short, a CRM system allows hospitality businesses to make informed decisions about how best to reach their customers and grow their business.
How to choose the right CRM?
Choosing the right CRM for your hospitality business can be a daunting task. With so many options and features to consider, it's important to first identify your specific business needs. 
Once you have a clear understanding of what you require, you can begin to look out for important features. Focus on features that are critical to the smooth running of your customer service operations. For example communication management, automated workflows, marketing automations and data analytics. These capabilities will help streamline your operations and improve customer relationships. 
When choosing a CRM, it's also important to look for a platform that is tailored to the hospitality industry. This will ensure that you have access to the specific functionalities and integrations that are relevant to your business. 
Taking the time to research and select the ideal solution can make all the difference in the success and growth of your hospitality business.
Once you have selected the CRM that is right for your venue, it's important to ensure that it is properly implemented. A successful implementation will help ensure that all of the features and functionalities are being used to their fullest potential.
This includes training staff on how to use the system to its maximum capacity, as well as integrating the CRM with other systems to ensure data accuracy and consistency. 
Additionally, it's important to create a plan for ongoing maintenance and upkeep. The focus should be on regularly updating customer data, monitoring system performance, and making any necessary changes to ensure that the platform is operating optimally. 
With the right implementation and maintenance plan in place, your CRM platform can be a powerful asset in helping your hospitality business succeed.
How can a CRM improve your marketing?
A CRM solution can revolutionise your marketing strategy and improve your bottom line. With personalised customer data at your fingertips, you can create targeted email and SMS campaigns that speak directly to your audience.
Gone are the days of generic, one-size-fits-all approaches to marketing. With a CRM, you can tailor your messaging to specific customer segments based on their preferences and behaviours. 
By leveraging customer data and creating targeted campaigns, you can build a strong relationship with your guests, increase bookings and enhance their overall experience.
For example, you could use the data to identify customers that haven't visited in a while. You then send out discounts or loyalty rewards to encourage them back into your venue. 
Plus, automating your marketing processes can save you time and money while still nurturing customer relationships.
3 Common FAQs about a CRM Solution
Let's address 3 of the most frequently asked questions about this powerful tool. 
What is a CRM system? Simply put, it is a software application that helps businesses better manage customer data, interactions, and relationships.
How can it benefit my business? A CRM can provide key insights into your customers' behaviours, preferences, and needs. This information can be used to create more targeted marketing and sales strategies, increase customer satisfaction, and drive revenue growth.
Is a CRM right for my business? If your business interacts with customers in any capacity, then it can be incredibly useful. It can help you organise important customer data, streamline communications, and improve customer service.
Investing in a CRM can be a smart decision that pays off in the long run.
Got some more questions? You might find the answer in this article.
Summary
In conclusion, CRM platforms are essential tools for elevating hospitality businesses to the next level. 
They help streamline operations and provide a better customer experience by allowing businesses to efficiently collect customer data and insights from every interaction. 
A well-built hospitality CRM system can significantly improve marketing campaigns, customer service, and process automations. 
It is important to pick the right CRM software for your business, making sure to consider the features and pricing options that are right for you. By doing your homework and properly researching available solutions on the market, you can ensure you select one that best meets your needs.