5 Tips To Sell More Gift Cards This Festive Season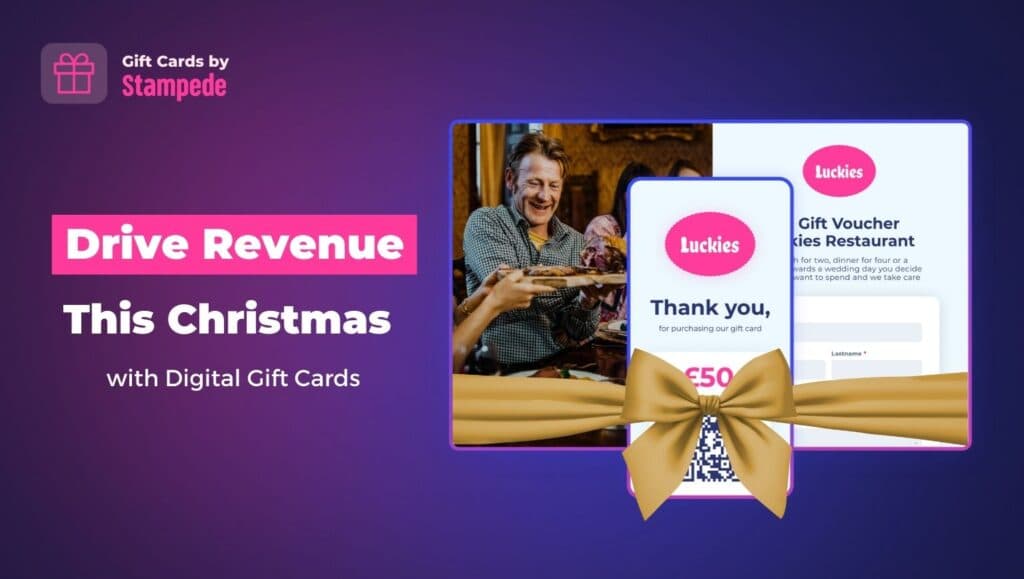 Are you ready for the first item on your Stampede Christmas shopping list? Let's talk about Gift Cards.
We all know that gift card sales always spike massively in December. Gift cards make for a great source of extra sales around the holiday season, which carries into the new year.
No need to wait until December though, the earlier you start promoting, the more time you have to generate revenue.
Increase Revenue With Digital Gift Cards
There are many reasons why you should opt for digital gift cards this year.
One of the biggest benefits for businesses, however, is that digital gift cards integrate with your marketing platform. So you can use the data to stay in touch with the customer long after they've redeemed their card.
Plus, they are easier to buy and use for customers and they can personalise them.
5 Tips To Make Your Gift Card Sales A Success
So, here's how you can make the most out of this year's gift cards sales:
1) Add-ons
Everyone sells gift cards. Pimp up yours to make them more attractive and turn them into a special experience by adding some add-ons.
Tasting menu
Free amenities, i.e. dessert, a bottle of sparkling wine … 
Drink package
Christmas hamper, i.e. cheese selection
Top-up option, i.e. double value gift cards
2) Omni-channel promotions
Your gift cards should be highly visible across all your channels.
Website:
Seasonal homepage banner and/or popup
Make it straightforward to buy with clear terms & conditions
Email & SMS:
Send an email to your entire database
Make sure to include previous buyers
Use SMS for last-minute promotions
Social media:
Add links to your gift cards on your Instagram bio
Change your Facebook Page button to "Shop Now"
Pin a post to your feeds
Showcase your seasonal menu & venue decoration to entice customers (include a gift card call-to-action)
3) Reminders
Keep promoting your gift cards in the run-down to Christmas through regular reminders across your channels. 
Make sure to keep your mailing list updated and exclude those who have already purchased.
4) Promotional push
Simple but effective. Give your gift card sales an additional push and come up with a special deal around Black Friday (24th of November).
5) Flash-promotion
There are always those who leave their Christmas shopping to the last minute. 
A last-minute flash sale in the week before the holidays, including Christmas Day and Boxing Day will help you to attract those.
Are you looking for an easy-to-use digital solution that allows you to sell more gift cards? Reach out to get started with Stampede Gift Cards.