For most web forms, the rule for the optimum number of fields is simple: less is more. For WiFi sign-up forms, however, the answer isn't as straightforward.
---
It's about finding the sweet spot between ensuring a smooth customer experience and leveraging Guest WiFi as a clever marketing tool to increase revenue and boost loyalty.
Unfortunately, a lot of times, WiFi sign-up forms fall into one of the two categories below.
Case 1: Too Many Fields
If your sign-up has a large number of fields, the log-in becomes time-consuming.
The outcome: customers either start filling in wrong information to speed up the process or quit before even finishing.
Always remember that your customers are looking for a quick log-in experience. They don't want to scroll through pages to fill in the form to get WiFi access.
Case 2: Not Enough Fields
The opposite is the case with not adding enough fields to your form. If you just ask for an email, you're missing out on useful data.
You might still be able to reach them via email, but you are very limited in crafting personalised messages. Hence, your conversion rates will be very low.
The Ideal Number That Converts
What does the ideal WiFi sign-up form look like then?
Use a minimum number of fields to remove friction, but ensure you get all the data you need.

The graph below helps you visualise how the number of fields impacts both the customer experience and the value of the data captured.
You can see that 4-5 fields is the optimum number.
---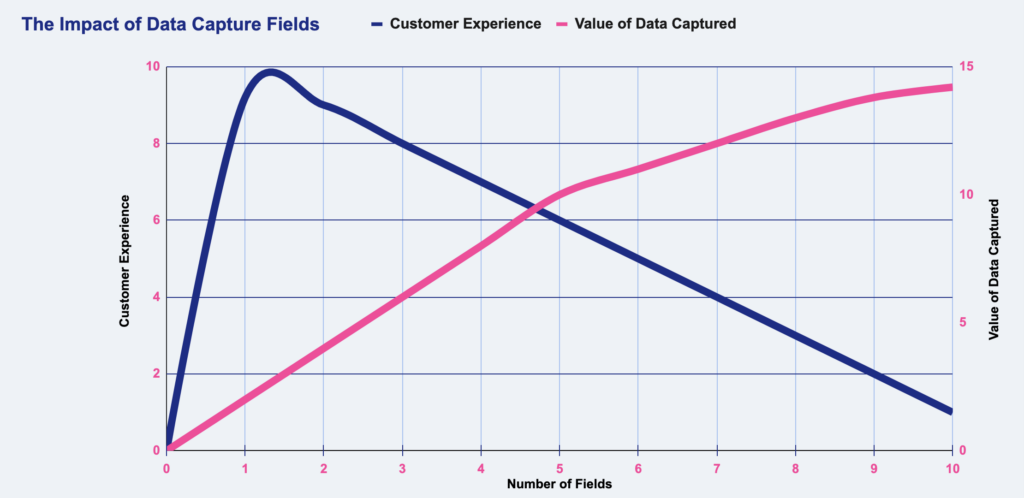 ---
So, start by thinking about what you want to do with the information. How do you want to segment your data and what kind of campaigns do you want to send?
Must-have fields:
Email address
First name
Date of birth
Nice-to-have fields:
Phone number
Last name
Postcode
Custom questions, i.e. reason for visiting, how did you find us …
With a carefully chosen custom question, you can create some specific audience groups with ease, such as Students. Then you can do more targeted customer research.
Extra tip – enable social media sign-up as the auto-fill option makes it fast and convenient for customers.
Start capturing your data through your Guest WiFi and build your mailing list with ease. Book a demo with our team to find out more about Stampede.