How To Set Up A Successful Meal Kit E-Commerce Page
Delivery and takeaway sales have seen another strong start in 2022. Recent figures by CGA & Slerp Hospitality At Home Tracker show a sales increase of 422% compared to January 2019. Time to ramp up your e-commerce meal kit page and promotions for maximum revenue.
In part one of this series, we analysed the Hawksmoor At Home e-commerce website and promotions. This part will give you some further guidance on how you can deploy a similar strategy to your meal kit e-commerce sales to get them flying out the door.
Page Layout
Most website builders have a selection of built-in e-commerce templates and building blocks to choose from. To save time, use those and customise or adjust them to your branding rather than building a page entirely from scratch.
We'd recommend going minimalistic and choosing a simple grid layout made of image and text blocks. This provides customers with a straightforward overview of your different meal-kit options.
Have a look around others restaurants' meal kit pages and get some more inspiration from the gallery below.
---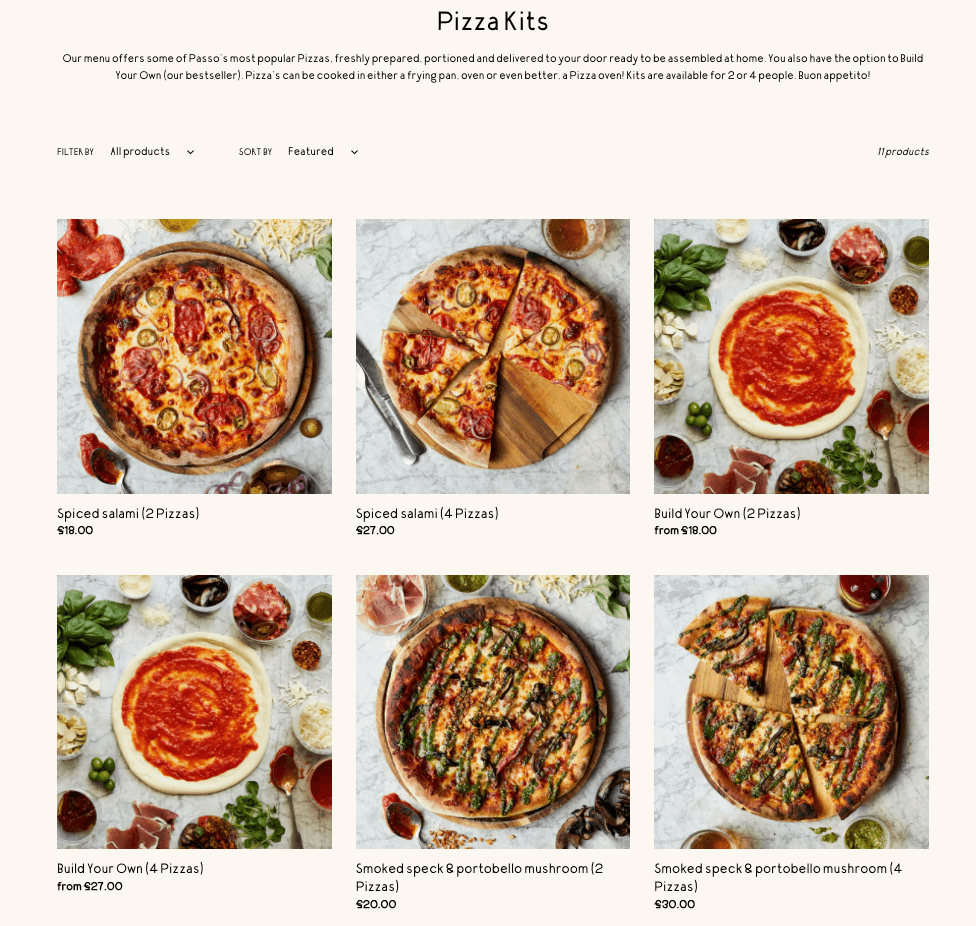 ---
Page Design
Keep the overall page design easy to navigate and use your existing brand assets to make it recognisable.
The overall focus on the page should be on the pictures of your meal kits, as they will capture your customers' attention and give them an idea of what to expect.
You can, for example, use one image showing the finished meal together with some close-ups of individual components and ingredients. Chances are that you have some high-quality shots for your social media posts already that can be re-used. This visual consistency between channels will help improve campaign effectiveness.
Always keep in mind that most of your customers will browse on their phones, so make sure your page displays well on both desktop and mobile.
Written Page Content
Again, keep the text minimal and provide a clear and concise description of your meal kits. You can use a bulleted list for this part, which makes it easier to grasp all important information at one glance. Strong call-to-actions will help you drive in more orders – "Get cooking", "Order now", "Create your [company] at home experience".
Once you've got the key information across, you can use storytelling to give your content a personal touch. Showcase your local suppliers and their ingredients with links to their websites. And don't forget to include customer testimonials.
A short FAQ section can give customers answers to common questions around last order date, storage, etc. You can also include more detailed step-by-step instructions here. This will help you to highlight how easy it is for customers to replicate your restaurant experience at home. 
To make your page even more engaging think about incorporating a short video on how to prepare the meal featuring your chef in action.
Check out this article analysing different meal kit delivery pages and their content for some more tips and tricks. 
E-Commerce Promotion
Once your page is all set up, it's time to promote your meal kit e-commerce page properly. Besides using your social channels and email marketing, you might opt for paid search ads. This will allow you to reach a much wider (national) audience.
Below are some useful resources around setting up converting Google Search Ads and further SEO tips to boost your website content.
Stampede integrates with a number of e-commerce platforms that allows you to access valuable customers data. Get in touch with one of our team who are happy to run you through it.