CRM Dashboard – Definition And Benefits For The Hospitality Industry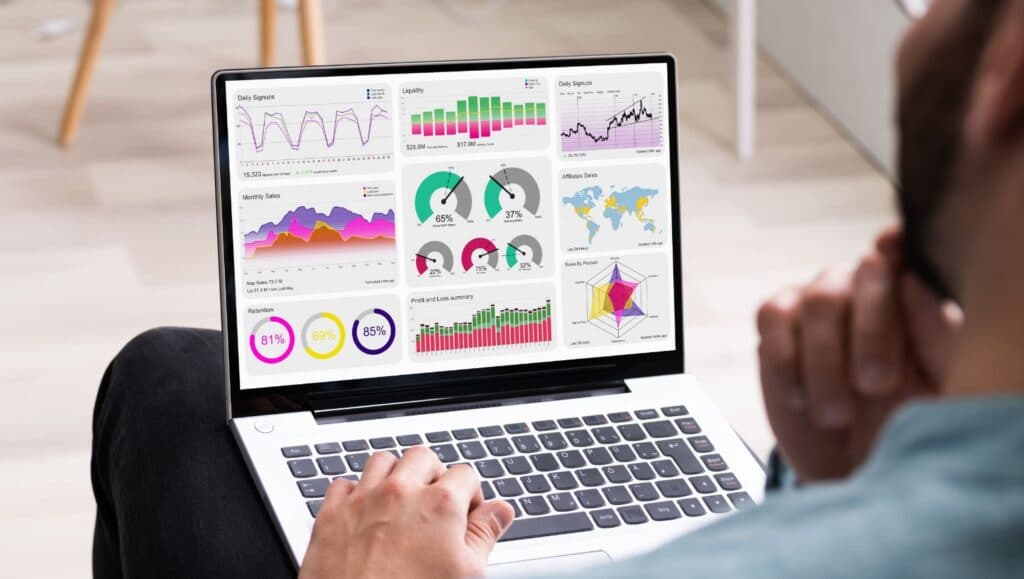 If you're a hospitality operator, having the right CRM dashboard set up can make a huge difference to your business's success. 
It is critical to have access to key metrics quickly and efficiently in order to make educated decisions that will result in high-performing operations. 
In this blog post, we will explore what a CRM dashboard is and discuss its 5 key benefits to hospitality operators and marketers.
What is the CRM dashboard feature?
If you want to keep a finger on the pulse of your hospitality business, the dashboard is an indispensable CRM feature you should take advantage of when planning your overall strategy. 
This powerful tool gives you a high-level overview of key metrics central to your business growth. Think of it as a real-time snapshot of your venue that provides a mixture of graphs, images and figures that accurately gauge performance. 
With the CRM dashboard, you can quickly and consistently monitor key performance indicators (KPIs) such as marketing return on investment (ROI), return in-venue visits or net promoter score (NPS), to name a few. 
5 Main dashboard benefits
A CRM dashboard can be a game changer for operators in the hospitality industry.
Here are the 5 most important benefits of why you should leverage this powerful CRM feature.
1. Keeps your team on track
Keeping your team on track is essential for achieving long-term success. A centralised CRM dashboard is an effective tool for accomplishing this. 
With access to the same data, your team can work together seamlessly. They can stay up-to-date on progress and identify potential roadblocks. They also get instant access to sales performance, customer interactions and other key metrics.
Plus, it can motivate your staff to stay focused and achieve their goals. 
2. Simplified information sharing
A CRM dashboard massively simplifies information and data sharing within your company.
With a holistic business overview at your fingertips, all the data you need is displayed in one easy-to-use dashboard.
This not only saves valuable time but also eliminates the need for your staff to search through multiple screens and systems to find the information you need. 
3. Updates in real-time
By utilising a dashboard that provides updates in real time, you can be proactive instead of reactive in your CRM strategy. So you can spot trends early on, allowing for quick adjustments as necessary.
Take online table bookings, for example. A drop in numbers could indicate an issue with your booking platform integration or a decrease in customer service and satisfaction.
Tracking the success of your marketing campaigns is also made more accessible. You can quickly and easily measure which strategies are meeting your objectives.
4. Supports decision making
As a hospitality business owner, making informed decisions is critical to your success. With a CRM dashboard, you can access real-time data and gain deep insights into how your business is performing. 
This means that your decisions will be data-driven, rather than guesswork, giving you an edge over your competitors. By utilising a unified dashboard, you can easily monitor your business's progress and identify areas that need improvement.
5. Allows for customisation
One of the key benefits of a CRM dashboard is its ability to allow for customisation. 
Whether you want to track specific sales performances over time, monitor a particular marketing campaign or measure customer satisfaction, you can build what you need in your own dashboard.
So you can easily stay on top of relevant metrics and track progress towards achieving your objectives. 
Summary
A CRM dashboard is an effective tool for optimising operational efficiency and customer relations for the hospitality industry. 
With the centralised view of all key information gathered in one place, operators are better able to stay organised, guide teams and improve their processes while maintaining quality and customer satisfaction.