2022-23 Email Marketing Report – Get 2x Higher Open Rates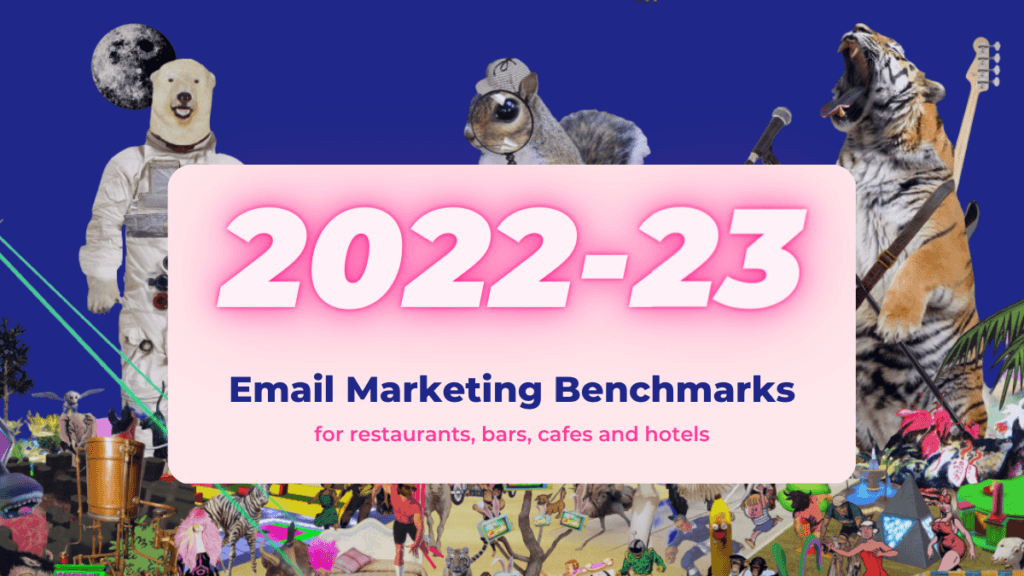 24,809,748 – that's the total number of emails that our customers sent using Stampede in 2022! 
Big data like this is cool, but we're more interested in big results. 
The actual power of email marketing comes from the data it tells. So we dug deeper into this data to compare the performance of those emails to the (former) industry average.
The State of Hospitality Email Marketing in 2023
Hospitality email marketing in 2023. It's not looking great for most. The hospitality industry is criminally underserved when it comes to high-quality email marketing tools. Especially, if you compare it to other industries like retail, eCommerce and so on. 
As a result, email marketing is underutilised and treated as a pariah, an outcast of marketing channels.
Now, it has been another tough year for the industry. Many operators were looking for ways to stay in touch with customers to keep the revenue stream up. 
Usually, that's where email marketing comes in, with an average ROI of $40 for every $1 spent. It is possibly the most reliable tool that allows businesses to connect with their customer to keep them coming back. 
However, to achieve maximum results, a customer database is required, which is easily built with the right tech tools.
And that's where the problem lies. Data is worthless without the right tools to hand to work with it.
So the first key takeaway here is: if the tools provided would be a better fit for the industry and its needs, more would get the big benefits from email marketing.
Before we dive into the 2022 email marketing numbers in more detail, time to bust one common myth.
Myth #1 – Emails Are Not a Thing Anymore
A common objection people have to email marketing is that it's a channel of the past and no one is really using it anymore. And the stuff that comes through might not be of the best quality, so people will probably ignore their emails anyway. 
Numbers tell a different story:
In 2022 over 333.2 billion emails were sent and received EVERY. DAY.
61% of customers actually want to receive promotional emails from their preferred brands. 
So, if done right, your chances of standing out in a busy inbox are still better than you do on social media. 
2022 Key Email Marketing Figures Compared
For 2022 the average industry open rates for emails were 20%.
What does that tell us? If you have 1,000 people on your mailing list, 200 of them will open it. You probably reckon that's not worth all the effort. 
However, when the open rate is nearly 50%, that's when you can't afford to avoid this channel any longer. 
So, let's have a look at how average results from Stampede users compare to the average industry numbers when it comes to key email marketing 2022 figures.
---
---
Stampede emails have a higher delivery rate than the industry average with open rates being 2x higher and click rates even 6x higher. That's a significant difference for all figures. 
Why is that?
Customers expect a personalised experience, both in-venue and digitally. That's when the data is needed.
With Stampede, you get access to multiple data sources from across the digital customer journey, which is automatically fed into the marketing tool. 
Using this combined data they can foster an engaged customer mailing list. Through clever segmentation and automation, they can then send personalised campaigns that achieve much higher conversion rates.
Myth #2 – Tracking Results is Hard
Another common myth in email marketing is that people think it's harder to show results to prove campaigns are delivering.
However, compared to other digital marketing channels such as social media, emails deliver much more tangible results that go beyond engagement, likes and views. 
With the right setup, results can easily be tracked in real money spent.
It's also a lot easier to set up this kind of tracking than conversion tracking on Google/Meta etc. Many of these require someone with good web development skills, but tracking email results in hospitality needs no coding skills at all.
Stampede Average Campaign ROI
The Stampede Marketing Suite allows for such detailed campaign reporting where users can track the results based on returning customers.
For 2022, we measured 13.8 million in-venue visits from those that received email campaigns via Stampede.
This means that more than half of the customers getting emails revisited the venue within 12 months! A reliable, steady flow of repeat business like this is going to be critical for success in 2023.
If each of those visitors spent £30 that's £414,000,000 worth of transactions!
Myth #3 – Too Much Work
Another big blocker for email marketing is the assumption that it is too time-consuming and too difficult to get right. 
Plus, once the email is out it's out, which causes insecurities, especially for new and non-marketing operators. 
Whereas a social post can be deleted if needed and seems to be quicker to set up, so that's where they'd rather focus.
However, creating and sending great email content is no harder than creating social media posts. Best tools make it easy for anyone to build an email with templates, functional drag-and-drop builders and great customer support.
Sector Success Stories in 2022
Here are 5 examples of how Stampede customers have successfully used email marketing in 2022.
| Venue type | Pubs & Restaurants | Pubs | Eateries | Hotels | Bar |
| --- | --- | --- | --- | --- | --- |
| Number of venues | 19 | 15 | 4 | 3 | 1 |
| Emails sent in 2022 | 9,812,955 | 1,196,940 | 108,533 | 383,531 | 354,452 |
| Average open rate | 36% | 52% | 70% | 61% | 50% |
| Repeat visits | 1,030,177 | 1,500,107 | 268,309 | 174,845 | 9,112 |
| Return-on-Investment | >£10,500,000 | >£2,322,000 | >£185,000 | >£1,167,000 | >£218,900 |
Anonymised data based on Stampede users accounts
---
2023 Email Marketing Forecast
Looking ahead to what 2023 might bring, we can say one thing for sure – email will remain the number one marketing channel for return on investment.
Especially, for smaller hospitality brands email will become an integral part of their success strategy moving forward as tools become easier to use.
The rising trend of personalisation will continue and it will get even more powerful as more industries will figure out how to combine customer data.
Lastly, more businesses than ever will move away from big providers like Mailchimp towards industry-specific tools that meet their tailored needs.
---
Don't see the results you want from your email marketing? Reach out to get started with Stampede for better marketing and more revenue this year.