How Tripadvisor's Safety Measures Are Impacting Hospitality Businesses
Tripadvisor recently rolled out their TravelSafe updates for businesses and travellers. The update focuses on bringing safety measures implemented in response to COVID-19 to the forefront. 
These changes have the potential to really shake things up in terms of ratings and rankings on the platform as consumer interests change and adapt to life after lockdown. Our research has discovered that less than 1 in 100 restaurants in the UK has added their safety measures to Tripadvisor following the update.
What does Travel Safe do?

For business listing owners, there are new sections available to provide details of safety measures in place. Businesses with this information get a badge on their listing preview.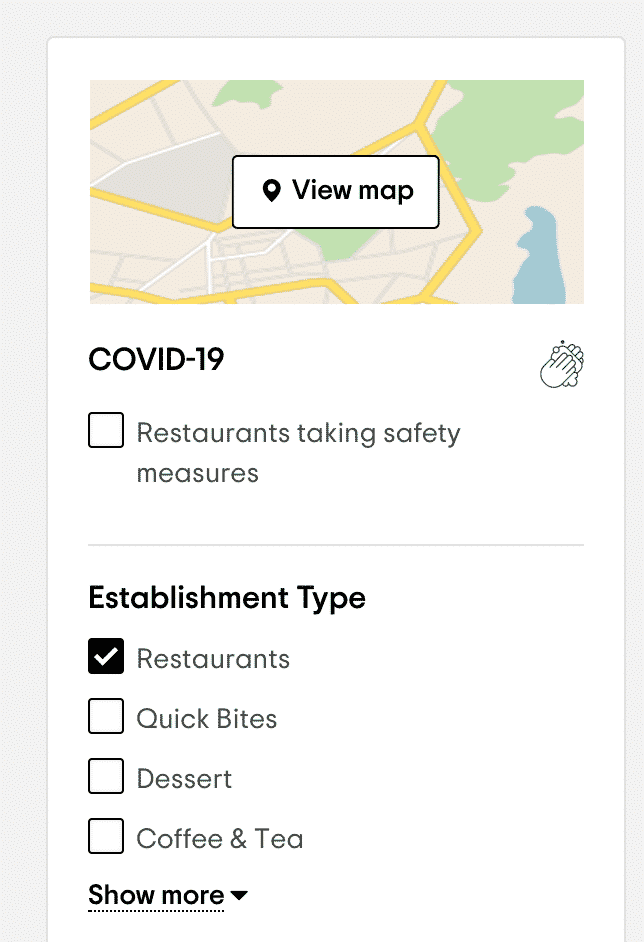 For customers, there's a new filter in the search results for "Venues with safety measures in place" (which takes the top spot) and there is also safety measure specific questions for those travels and customers writing reviews.
---
The Research Process
To get a better understanding of the impact this update has for businesses, we've gone through the results for hotels, restaurants and food and drink businesses in the UK's 30 biggest cities (by population), from the point of view of a customer. We've gathered the results in a table to compare hospitality industry segments and geographic areas.
We looked up the number of hotels and restaurants in each city, then applied the "Properties taking safety measures" filter in the left-hand column of the search results.
This was carried out for Restaurants, Bars and Pubs, Tea and Coffee and Hotels.
The numbers are striking. Out of 48,000 Restaurants in those 30 cities, only 406 venues showed up with the "Safety Measures" filter applied. That's less than 1%. 
For hotels, there was a marked increase in results showing up with the filter applied. From 9,000 properties, 625 included details of the safety measures they had put in place. A sturdy 6.9% across the nation.
London has the most restaurants with new COVID safety measures in the UK (134) but this is only 0.69% of London restaurants listed by Tripadvisor.
The southern cities of Bournemouth, Southampton and Portsmouth all feature highly on the list for restaurants with measures listed (3.93%, 1.77% and 1.63%). This is expected given their reputation as staycation hotspots on the south coast.
Nottingham and Glasgow top the list for the highest proportion of hotels with safety measures detailed at 12.5% and 11.5% respectively.
The full data for Restaurants and Hotels is below and you can view all the results of the research HERE.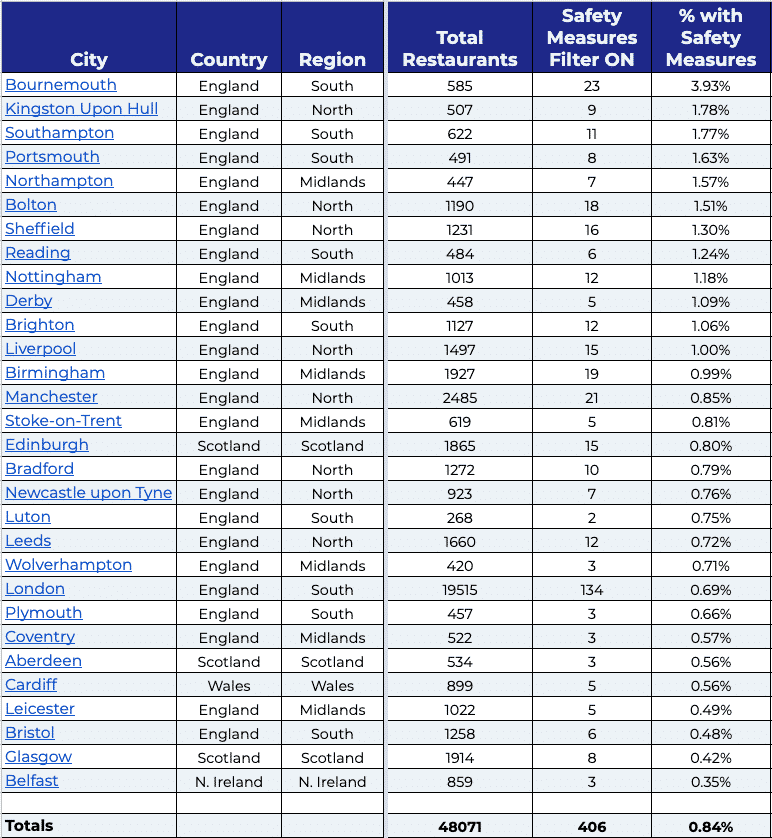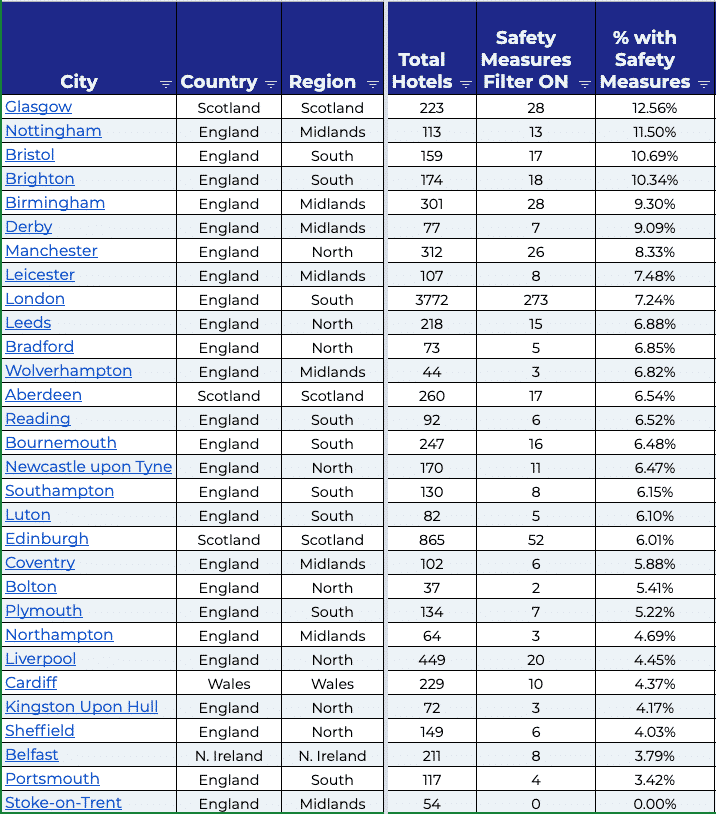 Food For Thought
As one of the go-to sites when searching for places to eat and drink it's surprising that so few venues have managed to get their Tripadvisor listings updated. Especially after going to so much effort to implement their safety measures and the consumer desire to be well informed of precautions. 
According to CGA research under a quarter (23%) of consumers are only returning to venues with caution and a third (33%) only doing so if they are sure that added precautions were in place.
Safety Culture says 'while 'Super Saturday' saw millions flock to pubs and bars, just a quarter (26%) of the British public feel safe going back to pubs and bars and only 37% feel safe going back to restaurants and cafes.' It says there is an 'urgent need for business to be transparent about new measures for customer and employee safety.'
At the time of writing, only about 60% of hospitality venues have reopened. It follows that as more reopen, the number with measures listed on there will climb and competition within that filtered search view will increase.
Advice For Owners
First, head to Tripadvisor and carry out a search in your local area using the same process we laid out above, or check out the results for the nearest big city. Have a look at what others near you have done.
Here's a great example of one we found to take inspiration from:
The Tripadvisor platform allows you to give a bullet point list of measures in place, provide contact details for any further questions and provide a short written note which allows for a more personal touch too.
With this information in place, a business will be significantly more visible to those concerned and cautious customers who want to be reassured before venturing out. 
Wrapping Up
Whilst we are still in early stages of reopening, it's a critical time to act on this. The numbers were quite startingly given the struggles already faced and the need to come back strong. The updates look eye-catching to customers on Tripadvisor and they themselves have put a lot of weight behind showing off safety measures.
It's well worth taking a few minutes to update your listing after all the effort gone into making the venue safe and those who get to it sooner will be better for it. There's a huge opportunity out there for those businesses able to reassure customers and increase their footfall as a result.
If you'd like any more information on our research please contact us.