Introducing More Tools To Thrive – Stampede 2023 Product Update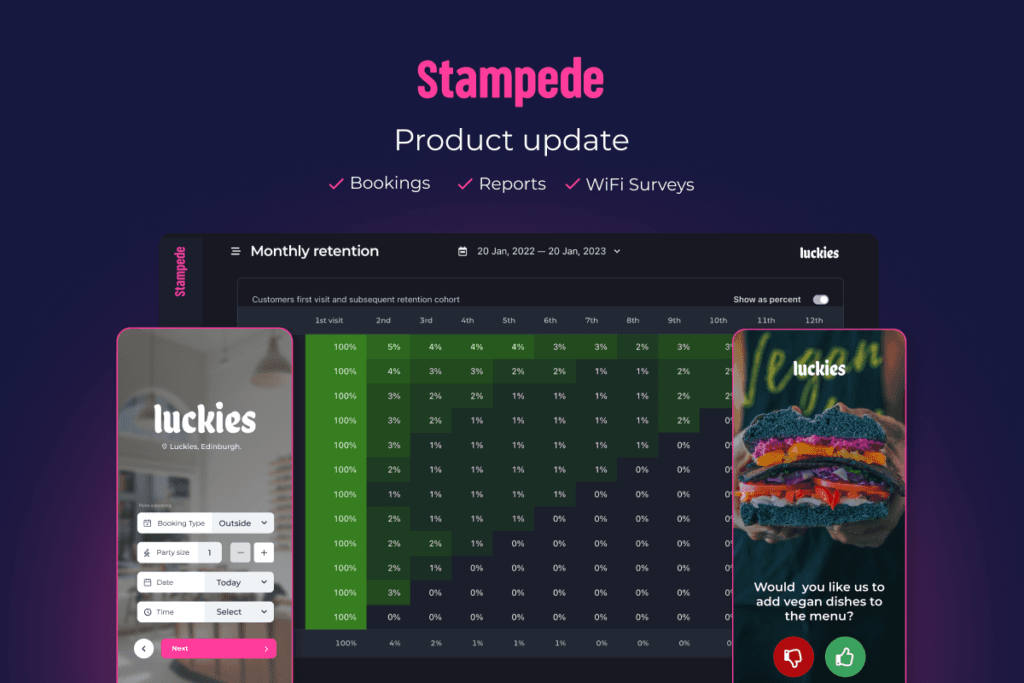 We've been quite busy behind the scenes in recent weeks, working on various bits and pieces to make our platform even more powerful. 
And we can't wait to share the details with you in our Stampede 2023 product update.
So, get excited about new features (we certainly are) and have a little sneak peek of what we have in the pipe coming out soon.
1. WiFi Survey
The more you get to know your customers and their preferences the better you can tailor your marketing to drive loyalty.
This is why we came up with a pretty cool and unique feature that is linked to the WiFi login: our new WiFi survey.
Imagine tinder-style swipe cards that are shown to your customers straight after they've logged in. 
You can use them to ask simple yes/no questions. Anything that helps you to build more granular customer segments.
You can also turn those on and off as you like, which makes it a great tool for seasonal questions such as "Have you booked your staff Xmas party yet?", etc.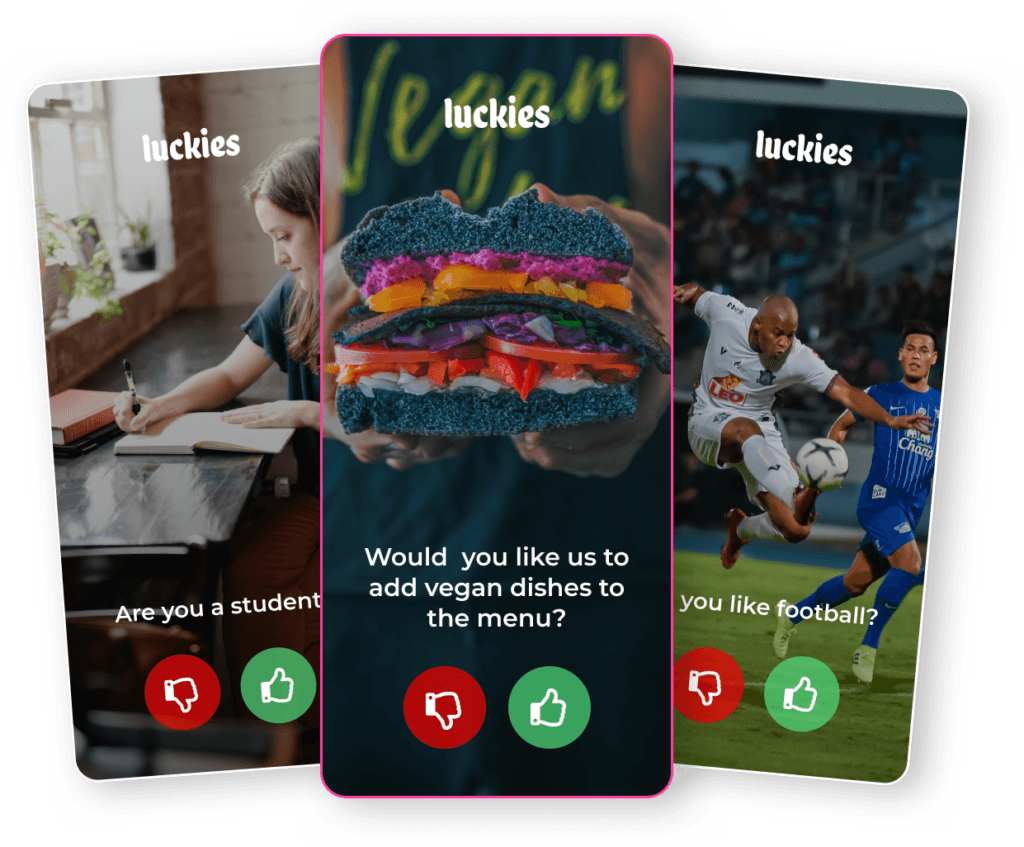 2. Reporting Updates
Our second big update is related to our reporting section. Personalised reports now allow you to really dive deep into your customer data.
My Report
No two businesses are alike.
With My Report, you can get creative in how you view your data and build an individual dashboard with whatever metrics matter to your business. 
This way you always get a quick overview of the most essential key numbers and results to know exactly what's going on in your business.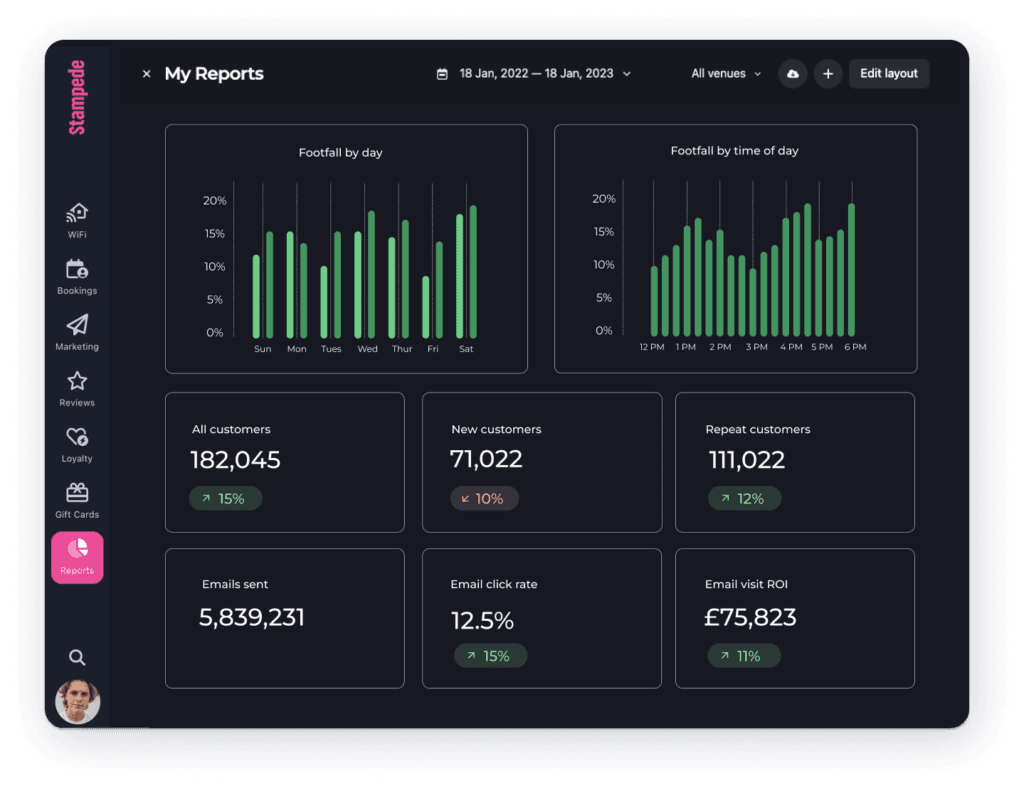 Retention Breakdown
Our second new report, the retention breakdown, shows you a monthly rundown of return visits.
This overview tells precisely how many times customers came back after their first initial visit, broken down by venues.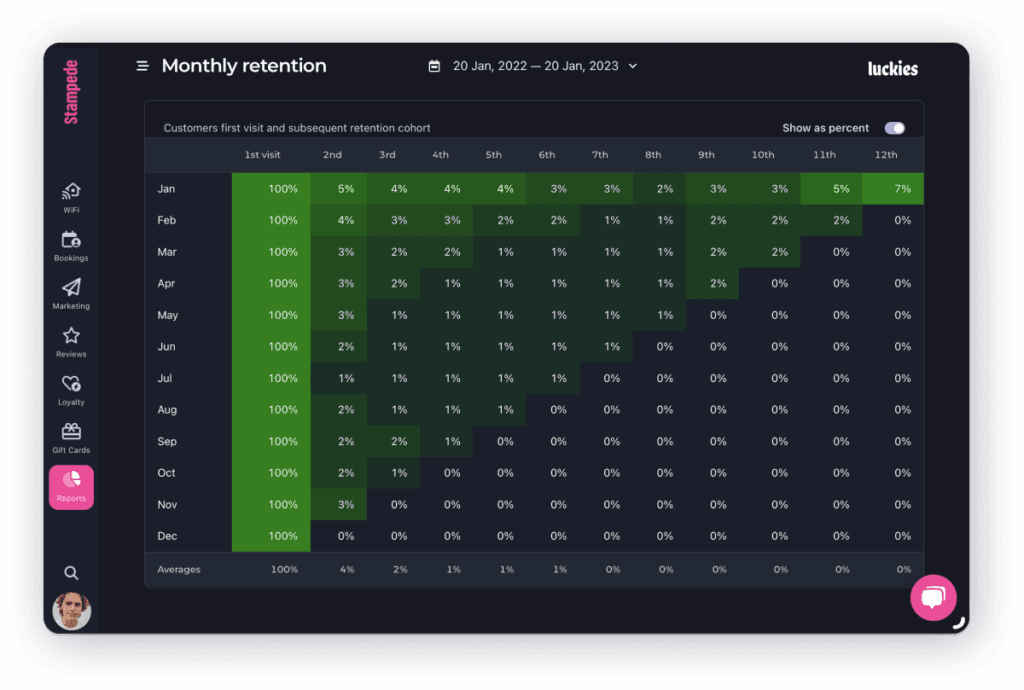 3. Booking 2.0
Since launching our table booking system last Summer we've added more than 20 features. They will all help you generate even more bookings with ease.
A lot of those are based on direct feedback from our users. Here are some of the key updates:
Operations-related:
Include internal booking notes, also available as a pdf download
Add cancellation charges
Join tables together for bigger group bookings
Add attributes to tables, e.g. highchair, wheelchair
Mark bookings as walk-ins
Segment bookings based on time slots, i.e. 'lunch', 'dinner'
Get a detailed daily breakdown

Bookings: number of pre-booked, same-day & walk-ins
Covers: total, active & arrived
Customers-related:
Ability to update their own booking
Pick allergens upon booking
Show other available venues if selected times are not available
… and much more.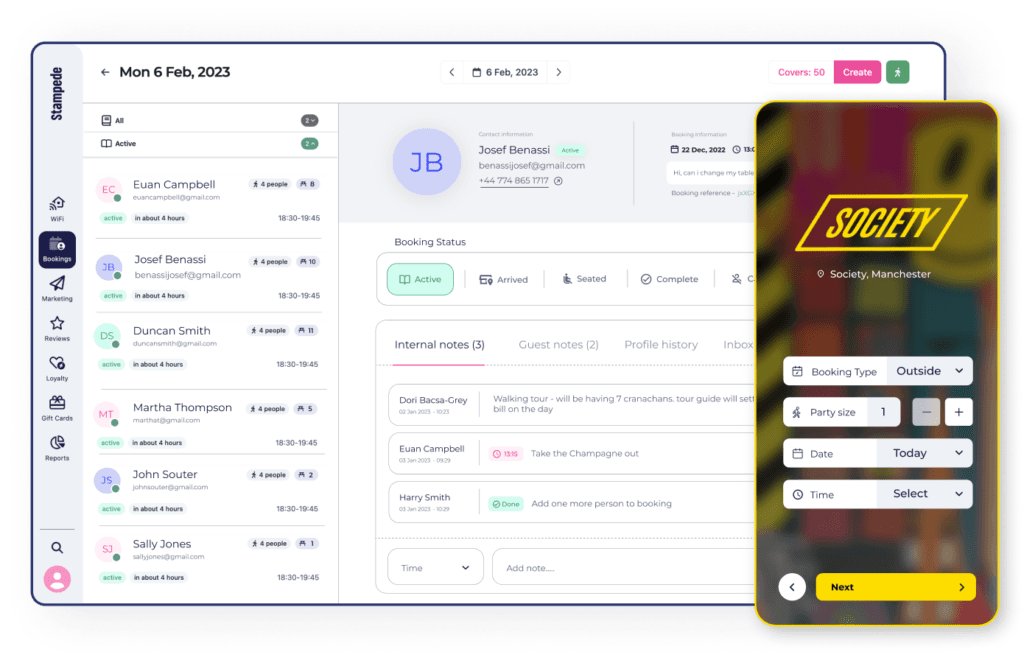 ---
All these new product features are live now in Stampede, you can log in and use them right away. Reach out if you have any questions or want to upgrade your account.
Now onto our last exciting reveal that is coming out soon.
Coming up – Stampede Inbox
Quite often, email inboxes are not connected to a CRM or booking system and only some of the staff members have access to incoming emails. 
The result: missed and unanswered customer requests. 
On top of that, potential previous dialogues with customers are not visible to everyone. 
All this will have a negative impact on not only the customer experience but will also result in lost business. 
The good news, there's a better and more streamlined way of handling your customer communications that makes it accessible for your entire team.
And the best bit, we are building it for you: a unified inbox.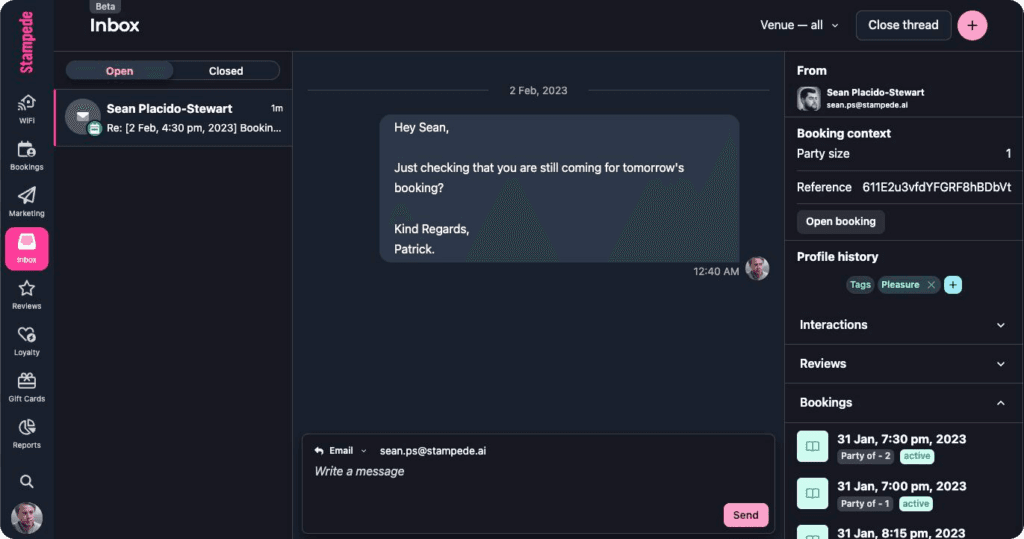 It will have all the basic features you'd expect from an inbox:
All inbound emails gathered in one place
A rich-text editor to style your content, attach images & links
An option to add internal notes
Though, we're not going to stop here.
What makes our inbox so powerful and one-of-a-kind is the 360° customer profile view that comes with it, as the inbox is linked to all our product parts. 
This means historic customer data based on previous interactions is pulled through to the conversation. So you get more context for better-tailored communications with each individual customer. 
To make the process even more efficient, you can also directly reply from the different product sections, e.g. to a new review or booking.
This is just the beginning of our inbox. More is to come soon, like the ability to connect to other channels, i.e. Instagram and SMS. So stay tuned.
Ready to make 2023 your most successful year? Get started with the Stampede Customer Experience Platform to drive 5x more repeat customers.