How To Make The Most Of Your Restaurant Outdoor Seating Space In Summer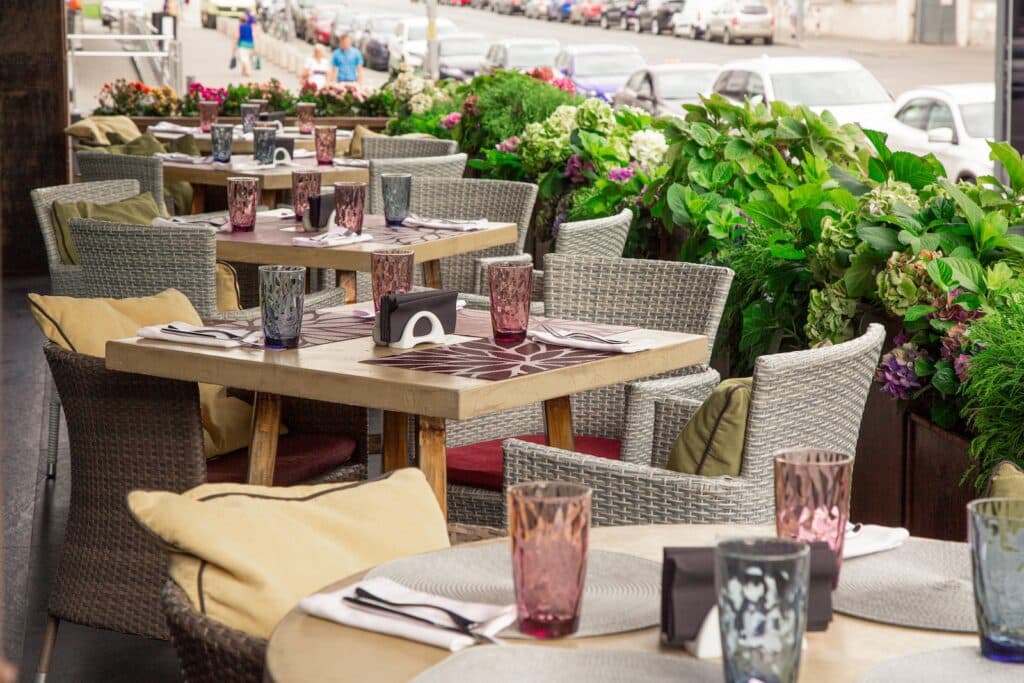 Summer is a brilliant time for the hospitality industry. For starters, the nights draw in a lot later and the weather is warm. Both of these factors make it easy to boost trade in the evenings, none more so when it comes to hosting customers outside. It's a unique time of year where we all feel more relaxed. What about giving your restaurant outdoor seating space a little boost and make the most out of it this summer?
Plus, with the copious amount of bank holidays, customers are more likely to arrive in large groups and stay out for longer. Summer is also a time when many sporting events happen, making beer gardens or outdoor seating a desirable location.
There are, of course, some stark differences when it comes to seating customers inside a restaurant compared with outside space. What needs to remain the same, however, is providing the same excellent customer experience.
Further reading: https://stampede.ai/blog/6-restaurant-sales-promotions-which-ones-right-for-you/
If you are interested in learning how to make the most of your restaurant outdoor seating space this summer, here are our top tips.
Give Your Space A Makeover
The great British weather can take a toll on the exterior of your premises. So if you are planning on hosting guests there, it will take more than a few tables and chairs to brighten the place up. Simple things such as a jet wash over patios along with a fresh lick of paint on fences and walls can make a huge difference. It's also a nice idea to add hanging baskets or similar biophilia too. If you're going to be serving food outside, ensure the area is clean and appetizing. It should also comply with health and safety regulations too. 
Aside from the obvious though, your outside space is a chance to inject some personality and character into your restaurant. Current interior design trends include rustic pieces such as exposed brick or timber. By keeping things simple, you can actually create a modern and inviting space for your summertime guests.
As the environment is also on our minds too, recycling or 'upcycling' pieces can work well for your outdoor spaces too. The benefit of reclaiming old pieces is that it can be quite cost-effective. Especially when most pieces may only need slight tweaks to make them ready for use.
Food Trucks
Outdoor eating, drinking and socialising brings about a whole new experience for your customers. So why not experiment with how you serve your dishes? Food trucks are perfect for this, especially during the summer. Whether you create your own grill or pizzeria or even collaborate with other food providers to offer your customers something different. It can create a really new and interesting experience for your diners. After all, who doesn't love a burger van or even apple crumble served out of a truck?
For example, if you own an Italian restaurant, why not have an Italian food festival? With great weather, food and music you can really create a buzz in the local community. Your restaurant could provide the main meals, and food trucks stationed outside could serve gelato. Food trucks also have huge social media appeal, especially as they are less formal than a sit-down meal. You could also buy your own food truck and take it to local events or festivals to spread the word about your restaurant.
Entertainment
Alfresco dining creates a serene ambience that we only have for a few months out of the year in the UK, so as a restaurant you should definitely capitalise on this by providing entertainment. For example, live music would work perfectly in courtyards or even beer gardens.
You could also experiment with themed nights such as an outdoor cinema club or a games night. Table tennis or pool tournament would be a great idea too and is really easy to set up. Don't forget to offer a prize for the winner!
Outdoor entertainment can also extend into your functions too. Given summer is home to both wedding and prom season, this is the perfect opportunity to utilise your outdoor areas to cater for large crowds. If your restaurant has sliding doors that lead to your outdoor space, you can merge the two spaces.
This will also give you the option to create different zones for functions, such as the dance floor outside and the buffet inside. If your restaurant also has stunning views overlooking the coast or city, this would make your outdoor areas even better for providing entertainment too.
Conclusion
UK summertime may be short-lived, but that doesn't mean you can't harness the abundance of potential that alfresco dining has to offer. Whether your restaurant or pub already offers outdoor dining, or if it's something you are considering, it's definitely worth getting on board with. After all, the sun brings people out to enjoy themselves. Why not let them do so in your fantastic restaurant?
However, in order for your restaurant outdoor seating area to be a real success this summer, you need lots of customers to visit it. Here at Stampede, we provide businesses with customer insights based on their Guest WiFi connections. Allowing you to market your restaurant, along with your outdoor summer events.
Plus, if your customers are on the WiFi at your summer dining experience, this creates the perfect content to share on social media – helping to promote your business further.
---
---