Connect Version 4.0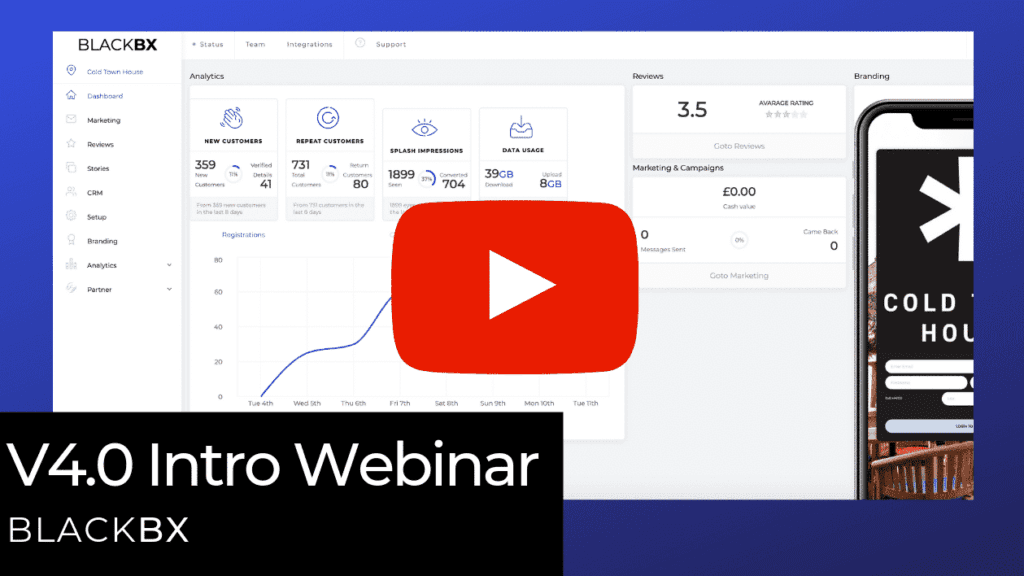 New version software now live!
Discover V4.0
After lots of hard work, we're happy to announce the fourth iteration of our software platform is now live
The new version includes:
 A totally redesigned user experience making the software faster and easier to use than ever.
An overhaul of our marketing suite including changes to the interface as well as improved functionality in the email builder.
Enhanced insight and statistics within the software providing more detail that you can use to grow your business.
Our Lastest feature – WiFi Stories
WiFi Stories allows you to promote news, offers, events and more in a dynamic way.
Check out our webinar below for more information or contact our team below for a 1-to-1 demo.
Webinar script 
Welcome – 0:00
Dashboard overview – 0:36
Stampede's new dashboard layout makes V4.0 extremally easy to navigate with all your key customer data pulled into one place.
Reports and analytics
Reviews
Marketing campaigns
Branding/login
Amount of people in your venue
Analtyics – 2:24
Find out who and when your customers are in your venue with our improved analytics and graphs
Male/Female
Opt-ins vs opt-outs for marketing
Customer Timeline Graphs 
Branding/login – 3:27
With our new editor and layout – building your business splash page has never been easier
View what your business splash page will look like on a mobile device
View GDPR terms
Edit data capture on the same page as design to see real-time updates  
Customise your splash page like a professional with our easy to use editor 
Marketing automation – 4:30
Stampede's marketing automation feature has undergone a redesign so you can track and implement a number of different campaigns quickly and efficiently to ensure you are reaching a return on investment.
Compare campaigns
Cash value ROI tool
Send limit
Create audiences
 "And" rule to send multiple campaigns to customers
"Or" rule for more targeted campaigns to customers 
Send SMS and email campaigns
Stampede's email builder has lots of new features to create eye-catching emails 
Reviews – 8:31
The Reviews tool has an easy to use filter system so you can manage all your reviews in one place efficiently. The review email template has also undergone a modern upgrade that autofill images and text from your splash page to create a stylish, branded design automatically 
Filter based on website or time 
Email template upgrade
Stories – 9:41
WiFi Stories allows you to promote news, offers, events and more in a dynamic way. On your Connect account, you can now create tiles for individual promotions and messages, that will be shown to returning visitors to your venue, after they login back into the WiFi. Each tile will be shown for 12 seconds before moving on, with a countdown timer along the top.
You can track impressions from the Stories and track clicks and interactions on these in the Connect platform, alongside our improved dashboard, analytics, and other marketing tools.
How to create stories
How to track impressions