ChatGPT vs. Jasper: The Two Most Popular AI Tools Compared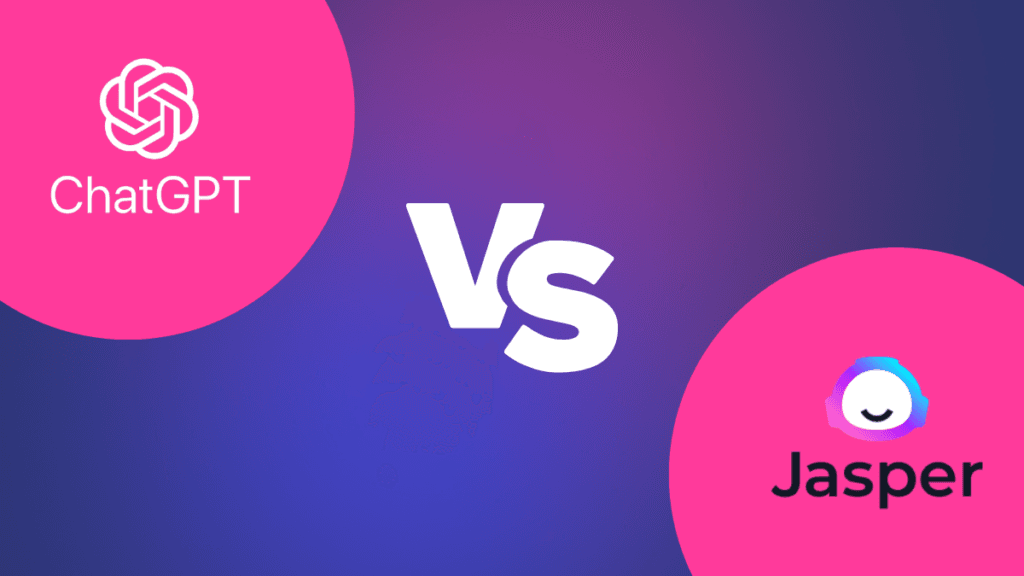 Now that you know all the good, bad and ugly about AI-generated content from the first part of our AI series, it's time to go a little deeper.
For this, we had a closer look into two of the most popular and widely used AI tools: ChatGPT and Jasper.
We've compared their main features and capabilities and also came up with ways to get the most out of both.
ChatGPT vs. Jasper – The Basics Compared
For now, ChatGPT is a free tool. Its popularity practically blew up overnight and it became the fastest tool to hit 100 million users.
Unfortunately, this led to quite a lot of downtime and users not being able to access it. This is why they are now offering a paid version for $20/m which guarantees full accessibility and also faster responses.
Jasper, on the other hand, is a paid tool. 
They offer a 5-day free trial to give you an idea and after that, their prices start from $49/m with a 50,000-word limit. Bear in mind that the word limit refers to all words created, even if you decide to delete them.
3 Things To Keep In Mind
Before you dive into the world of AI-generated content, there are some things to be aware of.
Here are the 3 main ones:
They generate original content pulled from the web – you need to do fact-checking!
They have finished their base training a couple of years ago, so some of their knowledge is not up to date
They remember previous input and allow for follow-up adjustments if needed
The example below from ChatGPT shows what happens if you ask for recent events:

Is there a way to get around this? 
The solution, according to the platforms, is to feed in any necessary information that might be missing to provide more context. Basically, teach it yourself.
Ways To Generate AI Content
The most notable difference between ChatGPT vs. Jasper lies in the way you can create content.
ChatGPT
ChatGPT only offers one way, a chat function, which is dialogue based. It follows a question-answer pattern where you simply put in your request to start a conversation. 
It's therefore very easy to use (once you've cracked the commands) and a good tool to get you started.
Jasper
Jasper, on the other hand, comes with a plethora of tools for content creation, i.e. chat, 50+ templates, documents, recipes, and workflows.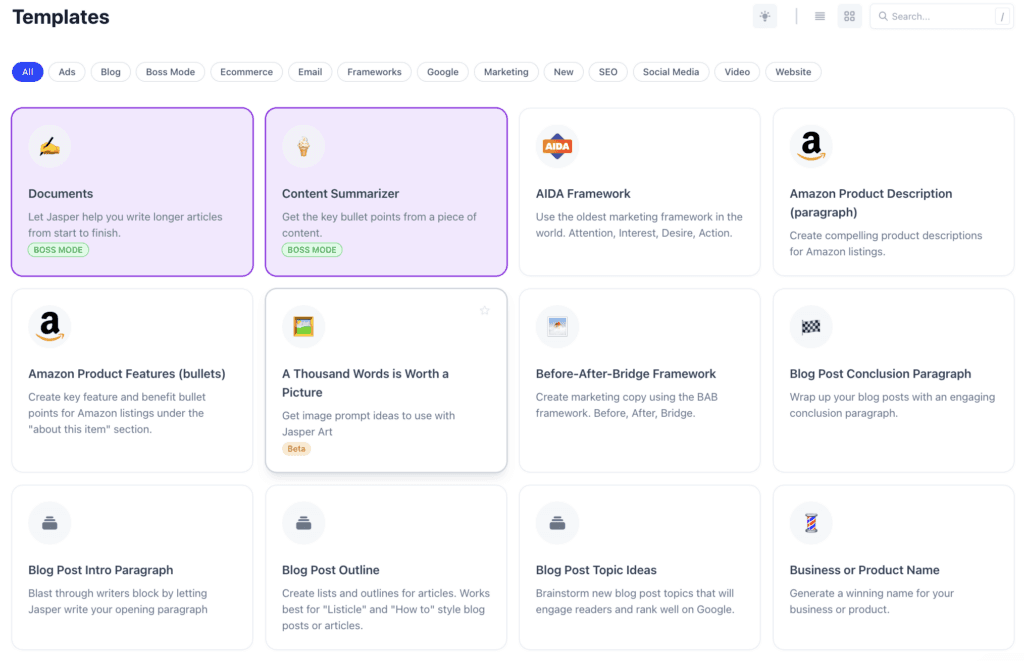 This can be a bit overwhelming for first-time users with a lot of options to choose from. To help you better navigate around the platform, Jasper offers various live training sessions and a bootcamp. Which we'd recommend making use of.
Now, the main difference between their individual tools is the degree of guidance they provide.
For example, Recipes come with pre-set step-by-step instructions. You only need to fill in your own input where required. It's a fast way to generate content and is also ideal to get a better feeling of how Jasper's commands work.

The opposite can be found in their chat (same functionality as ChatGPT) or document option, which allows for much more freedom. 
Workflows and templates are somewhere in between with a little guidance.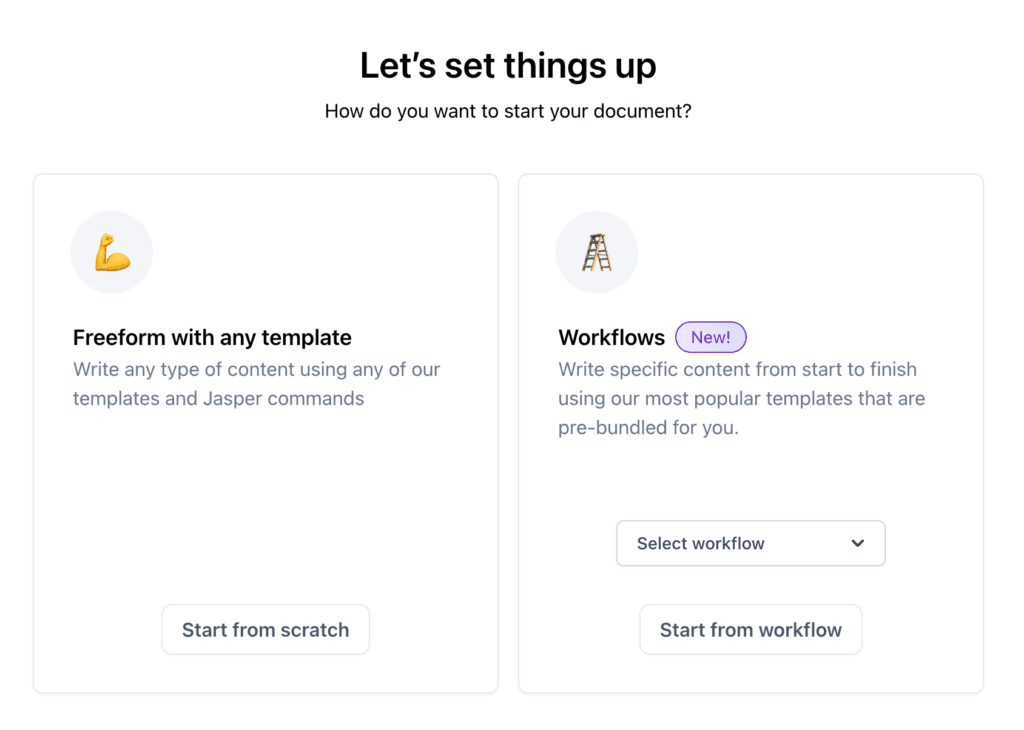 It's best to give them all a try to understand their difference and when to use them.
7 Tips For Higher Quality Output
To finish off, here are 7 easy tweaks you can do to your input to get the output you are actually looking for:
Upload your own content to teach it your unique writing style
Update input for each paragraph to avoid repetition
For creative output: use short sentences with few words
For more detailed output: include key facts, number of words and more information (see example below)
Guide the output: frame sections with headlines, subtitles, etc.
Use Jasper's re-phrase tool for more variations
Play around with different tones of voices, use adjectives or individuals as reference
Detailed input example for the chat function:
As a technology writer please write a 500-word educational article using semantically relevant topics for "digital customer journeys in hospitality", H2 and H3 subheadings with bullet points and relevant statistics, FAQ at the end. Use a catchy title. Suggest relevant resources (URL) to learn more about "digital customer journeys"
ChatGPT vs. Jasper – The Takeaway
The question that remains is: is it worth paying for an AI tool? 
It depends on how you want to use it. 
If you want to play around to understand how AI works then you should opt for the free ChatGPT version. 
The same applies if you're mainly looking for some content inspiration or subject line variations.
However, Jasper definitely provides much more flexibility for different business tasks in marketing and sales.
So, if you're looking for ways to generate a wide variety of mainly longer-form content Jasper is the better option.
---
Uncover the power of tech and data with the Stampede Customer Experience Platform that drives 5x more repeat customers.