It has been a big year here at Stampede. Join us for a throwback of the highlights of 2019.
Looking back, we spoke to a lot of amazing people around the globe, running all different kinds of businesses. But we've also invested lots of thoughts and time into improving and updating our product.
The Platform
The platform itself got updated in the way it looks and navigates. We have released the fourth version of it, providing our customers with enhanced user experience and more detailed insights and statistics.
Features
Following feedback from our customers, we've added a couple of new, exciting features. All further enhancing their marketing efforts, providing them with even more ways to grow their business.
Our Stories feature has transformed the way venue promotions are delivered to customers into a more dynamic and effective way. The first of its kind as an in-venue marketing tool.
The multi-site reporting saves time and allows for an easy way to compare metrics across various locations in just one report.
With our newest on-demand email marketing feature customers can be grouped into segments, which can be used for flexible bulk emailing.
Integrations
Various new integrations have been added to our product as well. For those who love to get things automated and streamline processes in their marketing and data, we're now officially listed on Zapier. Also, we now integrate with Airship.co.uk, a hospitality CRM service.
The Stampede Family
Looking internally, a lot has happened as well.
With our rapid growth in the last 12 months (and still ongoing), our employee size has more than tripled. We have even outgrown our office space.
The biggest achievement though is definitely our brand change from BLACKBX to Stampede in November.
Have a look yourself at our 2019 review timeline:
---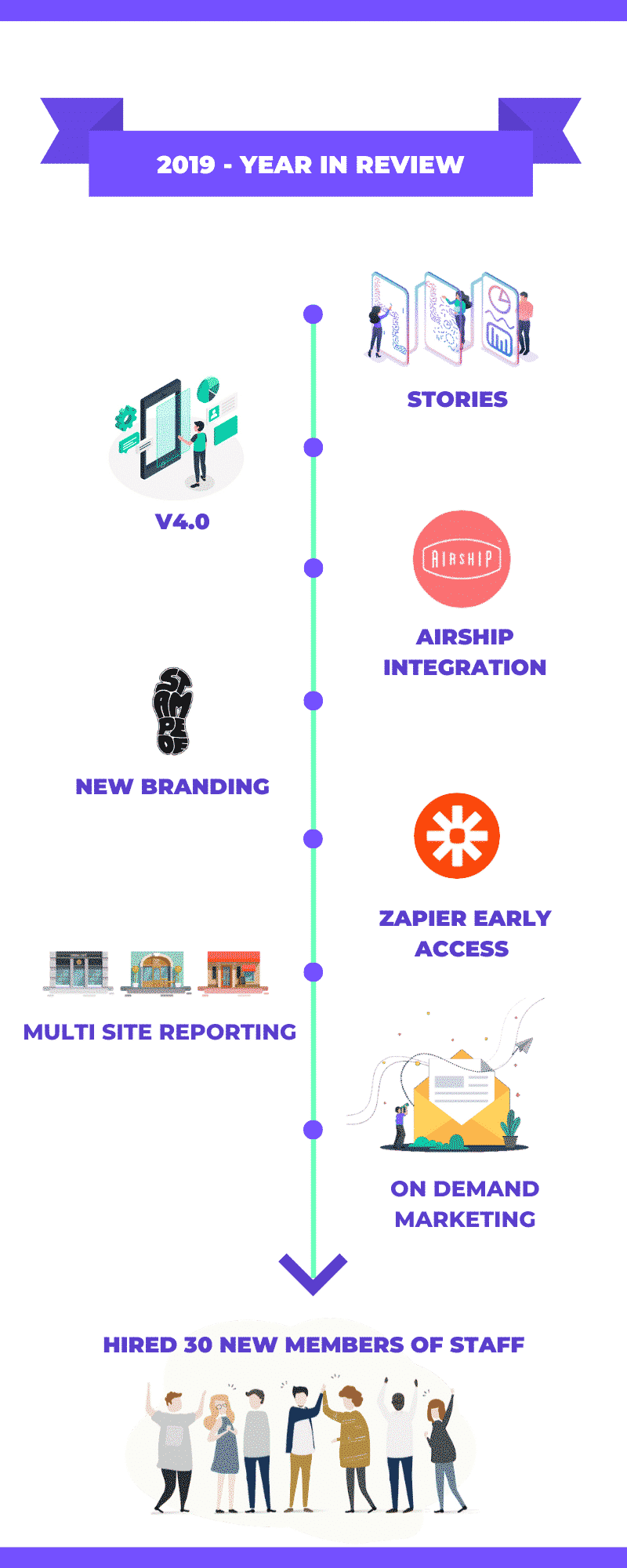 ---
Many more highlights to come this year. So, stay tuned to not miss out on anything!