Mobile Apps – Feature Update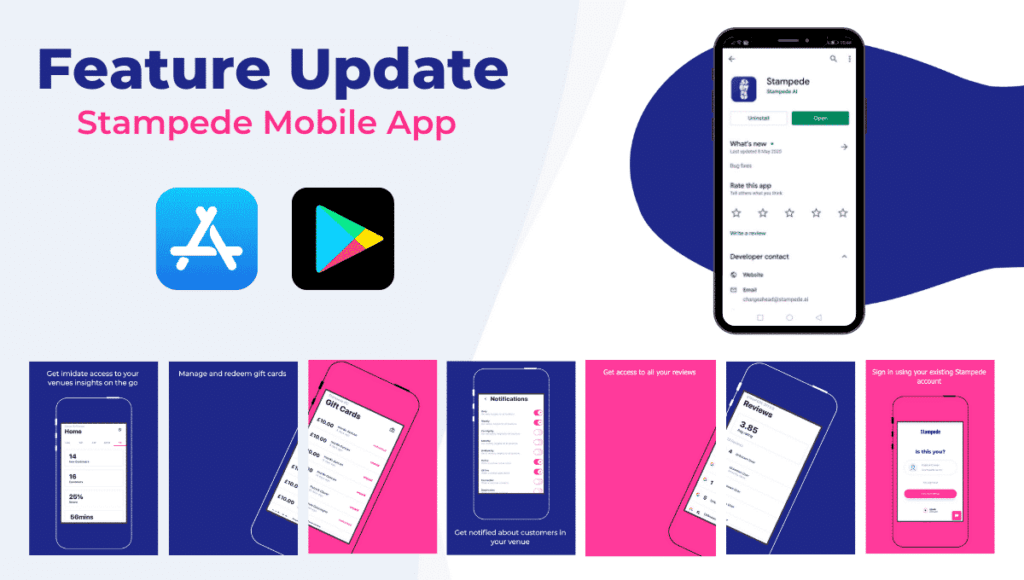 Following on from our recent updates such as Apple ID login, web forms and e-gift cards, we've turned our focus to our mobile app.
The latest version of our Android and iOS mobile apps have been almost completely reworked with our latest features in mind.
Users with access to the web-based Stampede system (product.stampede.ai) can use their existing login details to access the app. From the app Stampede users can:
Receive immediate notifications of important events (new customers, gift card purchases, new reviews etc.)
Scan and redeem e-gift cards
Monitor customer reviews that the venue receives
Get key statistics about their venue(s)
Get up to the minute reporting on marketing campaigns
This set of streamlined features allows busy users to keep up to date with key info on venues without sitting in front of a PC.
Notifications
Under Account in the mobile app's menu, you have a wide range of notification types to choose from. This will allows you to choose exactly what activity you want to know about from your Stampede account.
Notification options include:
New customer registration
New customer visit to venue
Location Guest WiFi Online/Offline
Periodic reports of location insights and data
New gift card purchased
Marketing campaign activity
New reviews
These will prove particularly useful for venue owners and managers on-the-go looking to keep an eye on performance. It is also useful for IT partners in case there is an issue with Guest WiFi in a venue.
Gift Cards
Another core function of the new mobile app is using it to scan and redeem Stampede e-gift cards. The app includes a scanner to use on the QR code that your customers receive by email when they purchase an e-gift card via your landing page.
You can also see a full list of all gift card purchases and redemptions. 
We'd recommend installing the app on a device in your venue or within reach of your POS, so that any staff member dealing an e-gift card can process the sale with ease.
If you haven't set up Gift Cards yet you can do that, for free, HERE
Reviews
On the app, you will find a light version of our Reviews feature. You can see the latest reviews and all the historic ones too. With immediate notifications, you act on any new reviews that come in fast. 
Whether that's a personal thanks to the customer or rectifying a problem, you'll have the info you need in your hand.
Reports and Stats
Lastly, we wanted to mention the "everything else" of the app. 
You can keep an eye on your latest email and SMS campaigns, watching as your customers interact with them.
You'll also find a range of stats about people visiting your venues via the Guest WiFi presence data and registrations (from all Data Sources), with options to look back over several time periods or watch it live.
The Stampede mobile app is available to use on nearly 15,000 devices and can be downloaded from the Apple App Store or Google Play Store for free. You'll find us under the Business tools section.
If you've like to learn more about our apps or submit any feature requests you can contact us here.