Gift Cards: Income Now – Footfall Later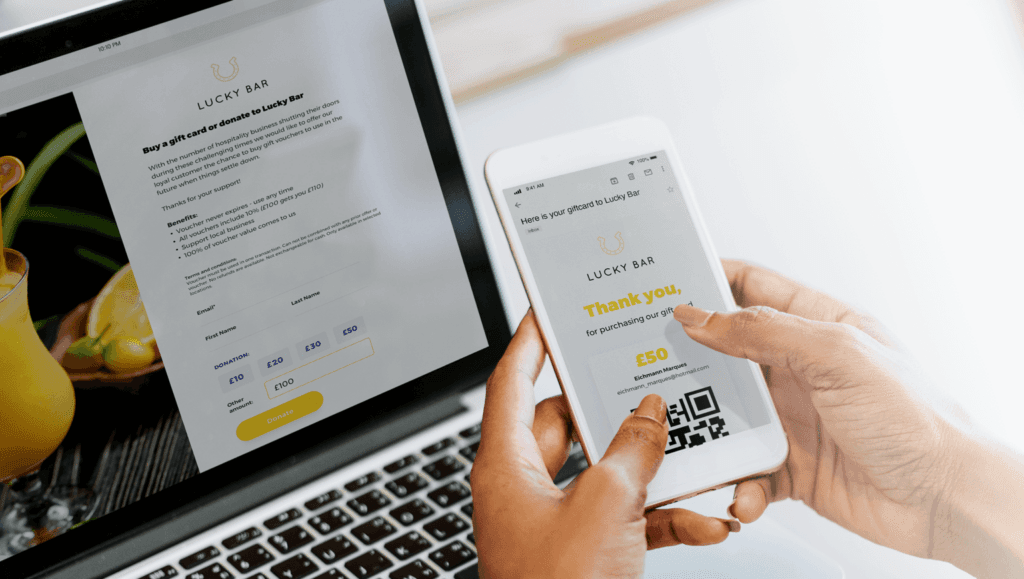 It probably comes as no surprise that gift card sales always spike massively in December. Add in lockdowns and restrictions and you have plenty of reasons to put more focus on gift cards sales.
---

Selling gift cards is a closure-proof way to keep bringing cash in, whilst also securing future footfall and income at the same time. Did you know: the average gift card user in the UK spends £41 over the value of the card when using it!
Here are a few ways to ride the incoming demand and boost sales:
Put them front and centre
Gift cards are often not the easiest things to find on websites, and social media bios might not even mention them. Some quick wins to turn that around:
Make a new homepage website banner to show them off – tools like Canva can help create some seasonal banners with ease in minutes.
Change the button on your Facebook to Shop Now and add a link to your gift card purchase page.
Pin a post to the top of your Facebook Page feed directing people to the same link.
Add a Story Collection to your Instagram profile to give them a permanent spot on there.
Change your Instagram bio link to the gift card purchase page and add some text about gift cards in the bio too.
Send an email to your database (p.s. there's a template in Stampede's email builder).
Create higher value preset amounts

The average value of gift cards purchased in the UK in 2018 was £58.
Given how much people would spend on a meal or a weekend stay, having preset values of £50, £100, £200 even £500 or £1,000 could increase sales value per card tremendously. 
By making the decision easier for customers they are more likely to purchase. If your preset values are under £50 then customers will likely choose one of those. Instead of entering a higher custom value. 
The fewer sales, higher-value approach isn't for everyone, but reviewing your average spend per customer will help guide you to what preset values you should offer.
Offer a top-up or discount

An incentive – such as double value gift cards – is always a reliable way to drive more sales. Especially if it's a short time offer. Leveraging the festive season is a great way to get in on that now.
The drawback is a little bit more admin but the quick hike in sales can certainly make up for it.
Ensure you put together water-tight terms and conditions on these. Such as usage restrictions, maximum values and use-by dates and so on.
Final Thoughts
Many people will be feeling they've missed out on visiting their favourite venues this year. And their friends and family probably know that. 
It's an ideal time to position your gift cards as an experience to look forward too. A gift card to enjoy some time at their favourite places to eat, drink, stay or relax will be an especially welcome gift this year. 
If you'd like any help setting up a digital gift card solution, get in touch with one of our team.