How WiFi Can Help Boost Guest Reviews Of Your Venue
Did you know that Guest WiFi and Reviews are interconnected? And that you can use the first to boost the second?
It comes as no surprise that great guest review scores are one of the main factors for your business's financial success. One the other hand, it also doesn't require much to understand the possible negative impact low star reviews can have on your business. 
Guests score you on a number of factors, such as the level of service and the quality of products you provide. It is, in essence, a grade of the customer experience at your business.
So just imagine. The service is great, the staff are friendly and knowledgeable, the venue is fantastic and the food and drinks…to die for! Imagine letting all that goodwill evaporate when your guests can't access the WiFi.
Now you may think that will not influence their experience as 4G is widely available, however, 86% of tablets require WiFi, not 4G for internet connection. Recent surveys have shown that 75% of respondents reported that a good WiFi experience would influence them returning to a venue and therefore has an impact on their reviews.
There are some easy steps you can take to improve the guest WiFi experience and the review score of your business. 
---
---
Welcome Your Customers
A WiFi welcome page that is branded for your venue is a great way to welcome guests and to further advertise your business. It is also a way for you to ask customers information about themselves in exchange for free WiFi. This simple method is a brilliant way of getting more back from your WiFi, as well as offering a reliable connection for your guests.
Another step further, if you operate a hospitality chain. You are able to create a uniform brand experience allover your venues. So that your customers recognise your brand wherever they go.
Welcome Them Back
In every business the key to success is offering a product that people want to come back for, again and again. Once your guests return to your venue, they do not have to enter any information to connect to WiFi. They will seamlessly connect just as they would at home, and why not welcome them with a 'welcome back' email? And why not share this experience in a positive review?
That's now possible with our Marketing Automation Feature. 
Know Your Guests
As well as giving your customers a fantastic experience, wouldn't it be great if your WiFi could give you, the business owner, something in return apart from positive reviews? With a good Guest WiFi solution, you can now know how often guests return, which days/times they return, how long they stay and much more. Very valuable analytics for the savvy business owner.
Using these insights, you could then create special campaigns. Say you've identified a quieter time during the week, so why not send out special offers (2-4-1) to boost them?
Keep the Conversation Going
So your review scores are increasing and you have a growing, happy and loyal customer base, that you know quite a lot about. The information obtained can be used to spread brand awareness with your customers and give "calls to action" through loyalty programs, special offers & discounts.
So, why not invest in great Guest WiFi system to make your customers happy, increase your review scores and use fantastic marketing tools to keep them coming back?
If all the above is not enough for you and you still want to get more reviews from your WiFi. Why not try out our reviews feature?
With this, you are able to automatically ask your customers for a review once they've left your venue. In a round-robin-like system, these reviews will be evenly distributed to your TripAdvisor, Google and Facebook.
But this is not the best part of the feature. Negative reviews often cannot be prevented, even if you gave your best. So, everything below 4 stars will go to a hosted form only you have access to. This allows you to get in touch with the customer and take any counteractions to turn a negative experience into a positive one.
---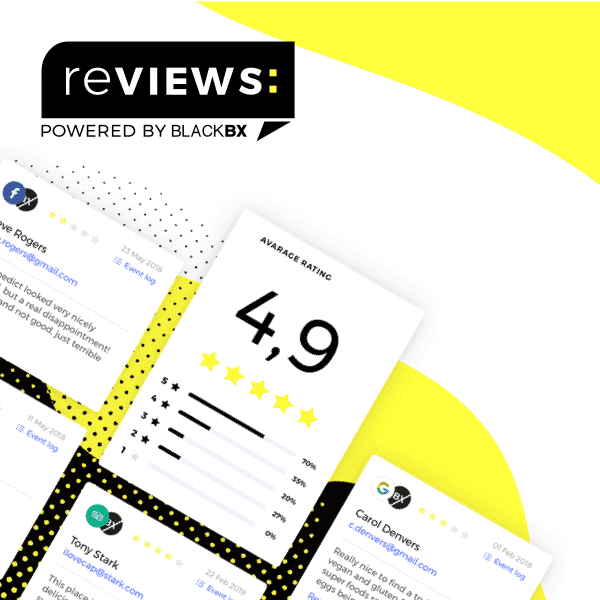 Want to Take Full Control Over Your Reviews?
_______________
---
Got curious? Do you want to see all this in action? Get in touch with us now.