A Festive Checklist to Spruce Up Your Seasonal Marketing
Deck the halls – or rather deck your digital assets – in time for the holiday season. You want your customers to feel excited and get them into the right mood early on. People will be keen this year, but with competition being fierce, you need your digital assets to stand out to highlight your seasonal marketing offers.
---

But where do you start? First and foremost, get your familiar branding aligned with recognisable festive themes. There's some easy but highly effective things you can do with your assets that won't take up much of your time or require any advanced design skills.
Seasonal marketing elements & images
Seasonal elements, illustrations and images are probably the quickest way to spread some festive cheer around.
Swap some of your images on your website with seasonal ones. You can reuse images from your previous festive seasons here or use stock imagery.
Include holiday-themed elements in your social media posts and in your emails. You can create your own festive template that you can reuse for all your assets (including your menu) to keep them uniform. Or to save some time, use ready-made ones. There's a wide range to choose from online (e.g. template ideas for Winter or Holiday season).
You can add some Christmas ornaments to your logo, the Santa hat is probably the most featured one around this time of the year. Profile frames and seasonal filters are also great for your socials.
Last, use a festive font for your offers and on your menu. Here's some fonts ideas: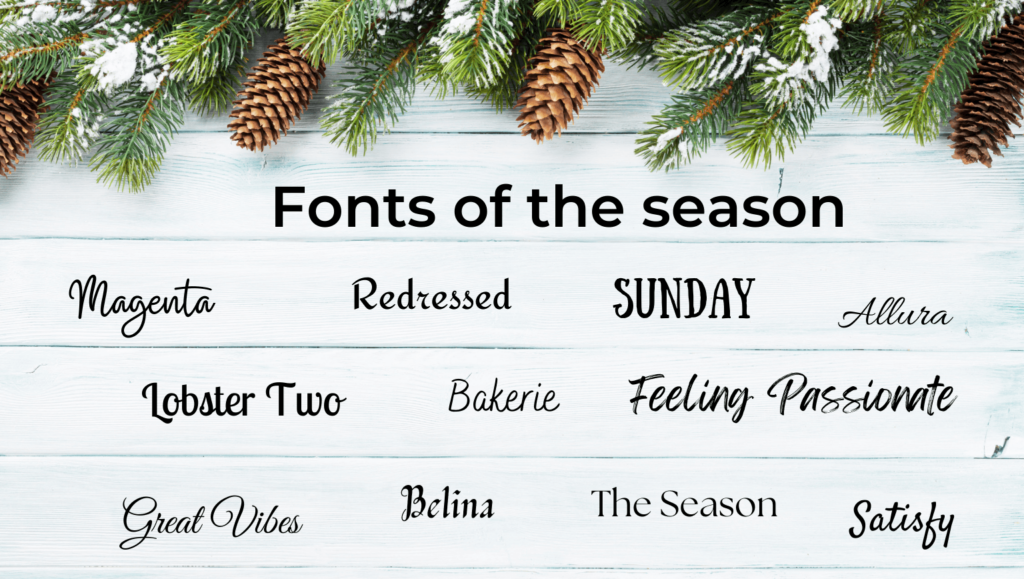 ---
Seasonal marketing colour schemes
Seasonal colours make your holiday marketing instantly recognisable. Dark red, pine green and snow white are typical colours associated with Christmas, so are metallic ones (tip – take them from our email header image).
As a rule of thumb, keep your brand colours as a basis and use any seasonal ones as your background or text colours. Don't overdo it, it's more about sprinkling it over than going full-on. 
What to keep in mind when picking your colour schemes:
Look for a colour palette that compliments your brand colours
Find pre-made colour palettes on platforms such as Canva or Shutterstock
Look for brands with similar colours and get inspired from what they're doing
Pick around 3 seasonal colours you want to use throughout your assets
Pick colour shades used in the images
Use web browser extensions (e.g. Color Pick) to get the hex code from colours you've spotted to use in emails and designs
Seasonal marketing messaging
The last bit to sort out for your seasonal content is the messaging.
Help customers (and the search engines) find you for the right reasons this season. Add festive keywords in the right places on your website such as 'Christmas Menu', 'Christmas Events', 'Christmas Office Party'.
And why not come up with your own branded, festive hashtag, e.g. '#[Company]XmasVibes', to spread the word about your offers further on your socials.
Seasonal puns are always great fun. You can use them to spruce up (see what we did there?) your email subject lines: 'Treat yo'elf this Christmas and book your table now.', your post captions and your call-to-actions.

Need a hand with promoting your festive season offerings via email and SMS? Get in touch with one of our team. We also have some festive templates available for you.