Tracking Digital Marketing ROI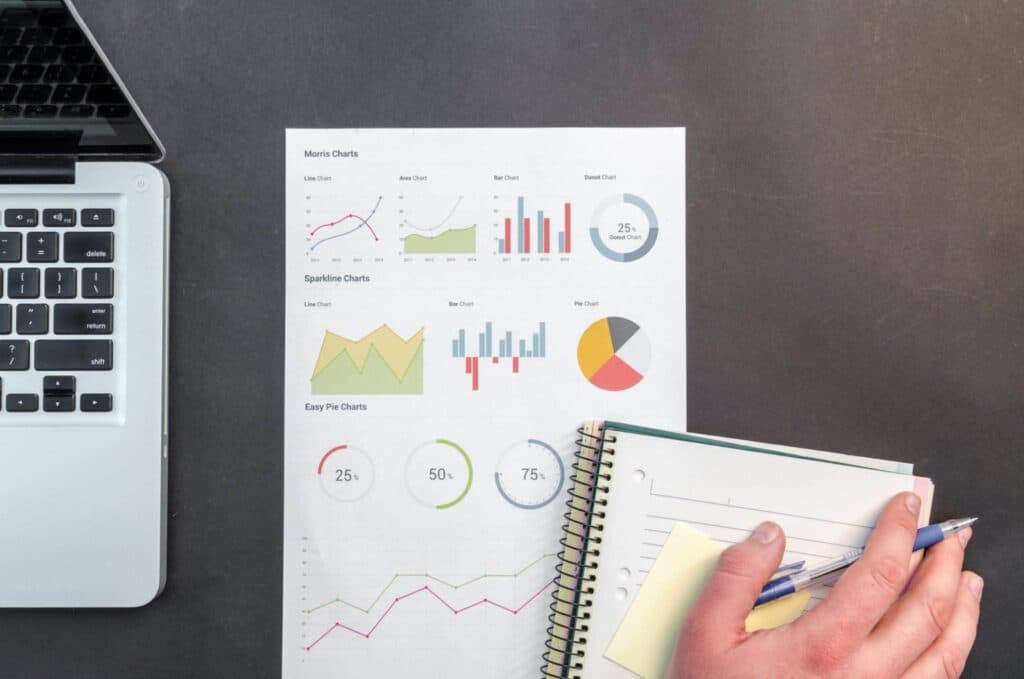 These are just three very persuasive statistics that show why cafes, restaurants and bars are recognising the importance of digital marketing. But it's not enough to be in it – or in the case of social media, on it – to win it.
Unless you're tracking the return on investment (ROI) from the time and money spent on digital marketing, you won't know how best to direct your cash. Without tracking, you can't align your marketing and business goals. Nor can you evolve your strategy so your budget consistently drives enquiries, bookings and sales. But how do you track digital marketing ROI in an offline business like a restaurant, coffee shop or bar?
Let's talk tracking what, why and tactics…
Why you need to track Digital Marketing ROI in your offline business
Tracking your digital marketing ROI allows you to make data-driven decisions that put money in your till. You might already be doing some monitoring and analysis of your marketing at a simple level. For example, you could be recording your social media follower numbers, reach and engagement. If you've taken things up a notch you might be plotting it against the time you're spending on social media, noting any uplift in bookings or reviews. You might also be tracking how many people open your marketing emails. Or looking at the take up of events or bookings featured in them.
This type of monitoring is great as a starting point. But to get to grips with what's working and what's not and the performance of different elements of your digital marketing, you need to get specific. 
You can track return on investment across your digital marketing efforts, including:
Social media marketing
Paid social media ads
Email marketing
SMS marketing
WiFi marketing
Paid search ads
And by tracking return on investment, you can better understand how online and offline marketing efforts fuel one another. This will allow you to fine-tune your marketing efforts. Monitoring can also reveal valuable insights to bring back into your business. You might find your social media audience is going nuts over a new dish, helping you to identify a new trend. Or you may discover your ideal customer isn't who you thought.
Taking a campaign approach to your digital marketing ROI
You've looked at the reservation data that shows you that your quietest time is 4-6 pm on a Wednesday. So you decide to launch a new midweek early evening set menu special. In the past, you've advertised this kind of offer in your local newspaper. Now, you'd like to test some digital marketing techniques. Here's how you work out your ROI and find out which channels work best for this particular campaign.
The campaign ROI formula
To calculate ROI, you should total the sales for any tables booked for your new midweek early evening set menu.
Subtract from this your cost of goods to get your gross profit 
Subtract your marketing spend for the campaign to get your net profit
Your ROI is your net profit on your investment divided by the cost of your investment x 100


Tracking digital marketing conversions
As a business owner or restaurant manager, it's incredibly satisfying to know that a marketing email you sent out drove a customer into the store. But how exactly do you find this out?
With email marketing, you can use trackable links within your emails to find out who clicked through, and who booked. You can use similar links across your social media and paid ads too. You can even set up your Facebook posts and ads to feature a 'message' option so that people can message to book with you. Straight from the ad. 
Paid Marketing Consultant Hannah Strong says it's also worth separating your new customers from old. This way, you can begin to track the lifetime value of digital marketing generated customers. You can also track the long-term impact of campaigns, different platforms and channels.
"Use remarketing audiences to exclude anyone who has visited your website before from seeing the ad (within Instagram, Twitter, Facebook or paid search). Then, pop a discount code/offer in your ad copy. Whether you offer a percentage discount or something like a free drink or dessert. This is a highly trackable way of measuring if your ads have generated new customers. Just make sure your employees are aware of the code and how to process it, or you have a counting system for redeemed freebies. For improved measurement, have a different code per marketing activity or platform – i.e. for your Facebook, Instagram or for paid ads."
Using a different code or offer is a great tip you can apply to discover which marketing has driven a customer in the store. You can combine the offer code with creative elements such as videos and imagery to grab social media user's attention. For example, you could use Instagram stories to promote a flash sale on a dish, drink new menu. Simply combine a drool-worthy video and specific offer for customers to use when booking or redeeming. 
WiFi Marketing and ROI
Offering Captive WiFi on your premises can really supercharge your tracking efforts. You can ask where and when new visitors heard about your venue, offer or event as part of their sign up process. This helps to identify who is a marketing originated customer. If you know where the customer has been converted from, there's the potential to calculate the customer acquisition cost.
Their email address can be used alongside other useful data for restaurant marketing to fuel future marketing campaigns. With WiFi marketing, you can track that a customer has booked thanks to the birthday email offer you sent them. And most importantly, you can gain insight into the seven friends they brought with them. When these friends use your captive WiFi portal you have the chance to expand your email list. And let's not forget the advertising value of those food photos they took and tagged your venue in on Instagram. This all helps to give you a fuller picture of each customer, tracks their lifetime value and your digital marketing ROI.
What's a good digital marketing ROI?
It's hard to set a fixed percentage on what makes for a good ROI. It goes without saying that you'll want to generate more money than you spend on the initial marketing. It's good to set goals. But if you're planning some marketing you may well be trying to solve a problem. You might need to liven up a weeknight or be looking to shift your customer base after a change in the economy. These types of scenarios mean that you'll want to track the return on your investment over a longer-term. You might want to monitor impact month on month by platform or tactic to see what puts bums on seats and money in the till. 
Monitoring your digital marketing ROI can really give you the edge when there are changes in the wider economy or to our leisure and social media habits. Why? You have data at your fingertips that allows you to switch up your strategy. You can calculate if you're hanging out where your customers are or you need to target different customers altogether.
Getting the best from your digital marketing budget
When you first start tracking your digital marketing ROI you'll soon begin to realise that your marketing budget isn't nearly as important as ensuring you use it effectively. Divert your cash to the wrong areas and you'll miss out on customers. If you fail to translate the energy put into organising events, new menus and providing the best customer service around, your marketing efforts go to waste.
Want to know more about linking up and measuring your digital marketing ROI to increase the value of new and old customers? Book a no-obligation chat to find out how Stampede WiFi acts as your missing link.
---
---