Originally posted: March 26, 2020, Updated: June 1, 2020

Many governments are now slowly easing restrictions, and consumers are growing in confidence as they venture back outside. With this rediscovered freedom, people are increasingly likely to seek out local suppliers for takeaway food and drink to enjoy as they get out and about again. The on-the-go type of trade is starting to re-awaken.
Adjusting and updating operations to offer takeaway can be a bit of a maze with so many ways to set it up for different sizes and types of venue.
So how do you switch your venue from sit-in to a takeaway? What are the things you need to consider and how do you promote the new change to your customers? Here are the key points:

Operations
People tend to order takeaways and deliveries at all times of the day. So you might adjust your opening hours. Maybe pushing them back to allow for later orders or even extending them.

Before you can get your orders out, you need to have appropriate packaging for transporting your food. You might have containers already in your venue for your customers' doggy bags. Your supplier of these should be able to get you a wider variety of container types to cover all your menu items. If you're starting new with take away, find a local supplier and get a catalogue or brochure. Be patient in your search, local suppliers might be understocked right now with increased demand.

If you chose to offer delivery as well. We've seen other restaurants partnering up with local drivers or even using their own staff to deliver their food and save further costs and hassle of using a well established app.
Dish Adaptation
In order to ensure a smooth operation, you have to adapt your menu. There's two factors you should consider:
First of all, you should reduce your menu to a more simplified offering. You could, for example, focus on your bestsellers only or on easy to prepare dishes. This also allows you to reduce your overall stock to necessary items only, saving additional costs and potential wastage.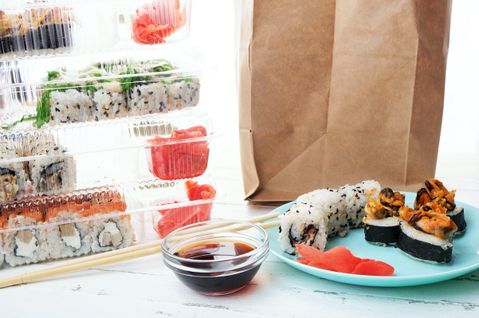 Second, make sure your dishes can survive transportation. No one wants a mash of some unrecognisable food when they open the box at home. This includes thinking about easy to transport food items, but also using separate containers for any sauces, garnishes or side dishes for example.
Hygiene Standards
For obvious reasons right now it's important to stick to the highest hygiene standards when preparing and handling food items. In addition, your customers' trust is built mostly on packaging and food presentation right now.
Generally speaking most takeaway set ups will be in a smaller space than you normally have available for staff and customers to interact in. The risk of cross-contamination gets higher with small waiting areas and counter surfaces for example. Make sure you stick to the government guidelines on social distancing for both your staff and customers.
Here are some additional tips from Deliveroo on how to keep your people and food safe:
Make sure you properly seal all packaging and bags by using tape or a stapler
Double bag your orders
Use cashless payment methods for collection
Implement contact-free handoff areas to avoid physical contact
For takeaway – reduce the number of people waiting in your venue for collection and ensure distancing
For delivery – make sure the food is put straight into the thermal bag and use drop-off delivery only
Set-up online ordering
Before you can start getting your first orders, you should consider setting up a proper online ordering system. This could be a separate landing page on your website or even an app. Relying on phone orders only can result in dissatisfied customers due to long waiting times or even lost orders.
To support businesses, Access Hospitality is offering free use of their online order and payment software at the moment, which allows you to set up your website within 48 hours.
Promotion
Staying in touch with your customers and informing them about any changes in your venue is crucial now. Make use of various channels to let your customers know that they can now enjoy their favourite meals at home.
First, start with updating all your social channels. Include the link to your online order section on your website or the app within the info part in your profile. Post about your new takeaway option to let people know and encourage them to share with their network as well. A launch offer to people sharing your posts could help word spread quickly. If you want to reach a wider audience, running a Facebook ad or promoted post might be another option for you.
Next, reach out to your customer database with an email or SMS. You might also combine this with a special takeaway deal for each day or a discount to encourage more orders coming in.
Don't forget your store window. A simple note at the door keeps any passing people informed – "Find us on a popular delivery app or visit our website" is all you need.
Final Thoughts
There's a good number of elements to pull together to offer take away, hopefully this article brings it together in one place for you.
Once you've taken the effort to set up your takeaway offerings properly, why not implement them as a permanent part of your business? This way you're not only benefiting on the short-term but also long-term.
To help you get the most out of your takeaway efforts Stampede is offering a Gift Card builder and Marketing tools for free. You can send emails and SMS to your customer database, and also offer eGift Cards or vouchers via your own, bespoke landing page that customers can redeem in store.
Find out more out about our COVID-19 resources for businesses HERE.