Free Restaurant Promotions Ideas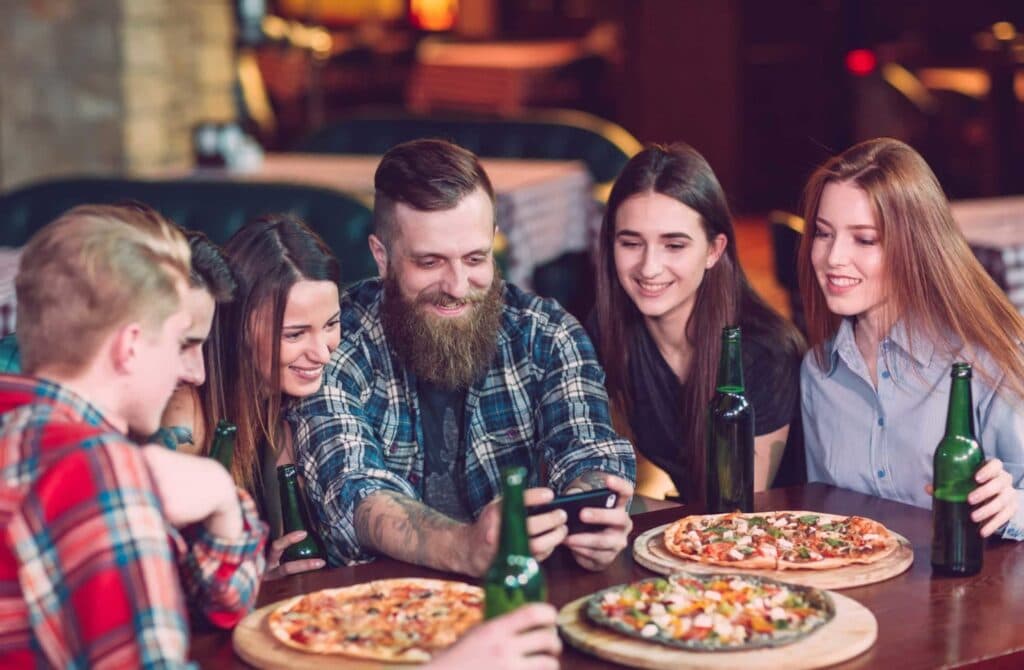 Like many industries, it can be tough to drum up repeat trade in the restaurant business. Especially with the ever-changing high street, the cold British weather not to mention competition from larger chains. The good news is that there are many ways you can create repeat business for your small business. Even better, there are many free restaurant promotions ideas.
In fact, the beauty of having your own restaurant is that you can get creative, making a strategy that is much more personal for your customers than a bite at McDonald's.
People love independent restaurants for their homely feel, especially with excellent hospitality and amazing food. Drawing on these strengths creates a sense of loyalty, helping your brand to become adopted by the local population.
If you own a small to a medium-sized restaurant, here's our top free advice to promote your restaurant and boost your repeat business:
Get Social
It goes without saying that in the digital age, a social presence is a must when it comes to your business. Facebook and Instagram, in particular, are great ways to show off your restaurant. Also, another free way of promoting your restaurant. Whether you advertise deals or introduce new items to your menu, it's an excellent visual tool to get stomachs rumbling and ultimately feet through the door.
Most of all, it keeps your business in the mindset of your customers. Your restaurant goes from being a physical space they may pass on the high street from time to time, to something they are viewing every time they scroll through their feed. It also gives the ability for tagging, inviting others to dine with you or view your posts.
The more your brand becomes a lifestyle and connects with your customers during their everyday lives, the more likely they are to visit. You can even use social media to advertise bookings for big events such as Christmas Day, Mother's Day, Valentine's Day, etc. It's a multifaceted tool that can give a huge organic or paid reach, opening you up to new customers even if you're closed!
Special Offers
Few of us can resist a bargain and the same is absolutely true when it comes to food. Eating out regularly can seem like a bit of a stretch for some, so getting the right deals will help boost repeat business.
Some restaurants have a set menu where every night there is a different deal, such as "a curry and a pint for £5 on Thursdays", or "buy one get one free burger on Saturdays". You can completely tailor deals to the type of cuisine you serve and your clientele. The main thing is that it's a way excellent of attracting customers, and helps create loyalty. Think of how successful Domino's two for Tuesday is!
Don't forget to advertise any deals on posters or boards to attract passing trade also. The best combination is to combine a great deal with a slow part of the week. Give your customers a reason to head out in the rain and come visit you over the bigger chains down the street.
Be proud of what you do differently as an independent restaurant, and don't be afraid to share it.
Rewards
From the traditional reward card that gets stamped each time a customer visits your restaurant, to offering a discount each time someone leaves you a review online – rewards are an excellent marketing tool in themselves.
In terms of getting repeat business, there are many ways you can make rewards that give you just that. For example, patrons can receive a free drink on their 6th visit. Or, a half-price meal if they return twice in one week. You can tailor the deals to make them work for your restaurant.
Here comes another free restaurant promotion input. Have a read in our eBook on how loyalty programs can help you boost your repeat business.
---
---
Themed Nights
Everyone likes something to look forward to, and themed nights are an excellent way to drum up business both repeat and new. You could hold a jazz night and invite a local musician to play, or even a tapas night. Some restaurants even hold murder mystery nights!
The idea is to create a buzz and expand the potential of your restaurant. If people can visit you for a delicious lunch but also return a few days later for a Halloween night or even a poetry reading – this is repeat business.
The best part about themed nights is that your customers will likely turn up in groups. This means even more new or repeat business is generated.
---
If you own a restaurant and you're looking to increase footfall, it's time to act now by getting creative. It's important your business is a place people want to visit more than once in a while, so it's essential to take steps to make this happen. Our free tips and tricks will help you promote your restaurant more successfully.
Whether you venture out with themed nights or offer special promotions for your loyal customers, it's all about getting into the mindset of your patrons. The more customer-friendly your restaurant is, the more likely you are to secure repeat trade.