Compared: 4 Time-Saving Social Media Scheduling Tools [Updated 2023]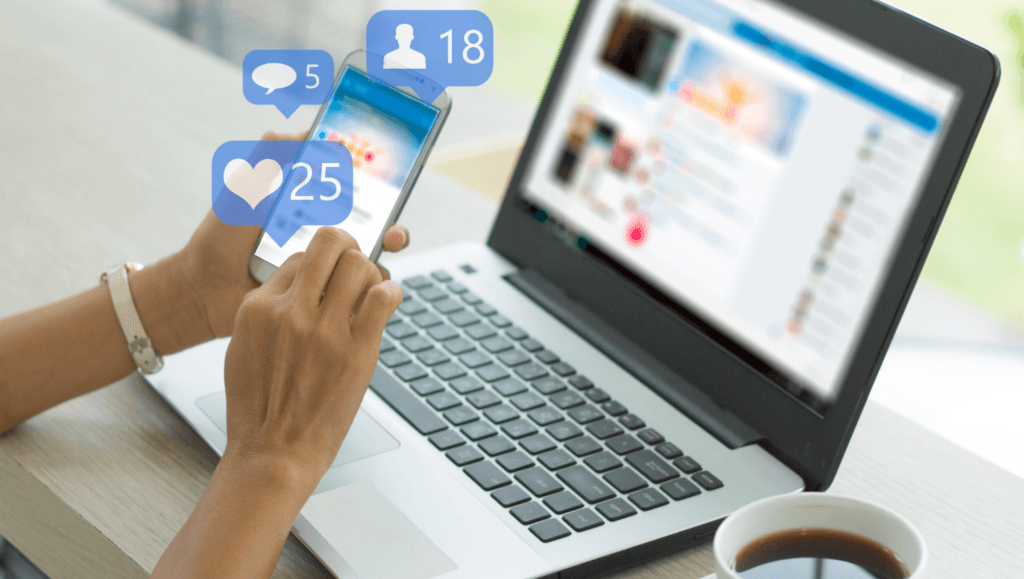 Estimated reading time: 3 minutes
How much time do you spend on your social channels planning and posting content each week that you'd rather spend somewhere else? Saving time is just one reason why you should start using a social media management tool. You might not always be able to post when your followers are most active or sometimes time just gets away from you, that's when scheduling comes in handy.
---
Social media management tools allow you to bulk schedule posts across all your platforms, which helps you to stay present on your customer's feeds.
How to choose the right social media scheduling tool for your business
In general, social media management platforms come in a wide variety, from basic planning and scheduling to full social strategy management. Whilst you might not necessarily look for the latter, there are some elements all tools should have included:
Easy-to-use interface
Integrations with all major platforms (Facebook, Twitter, etc.)
Optimal posting time suggestions
Basic performance analytics with social engagement & monitoring
Nice to have features, in addition, would include:
Social listening for trending topics
Competitor monitoring
Story publishing options
Social media scheduling tools examples
We've compared 4 of the most popular platforms to see how they stack up against each other:
---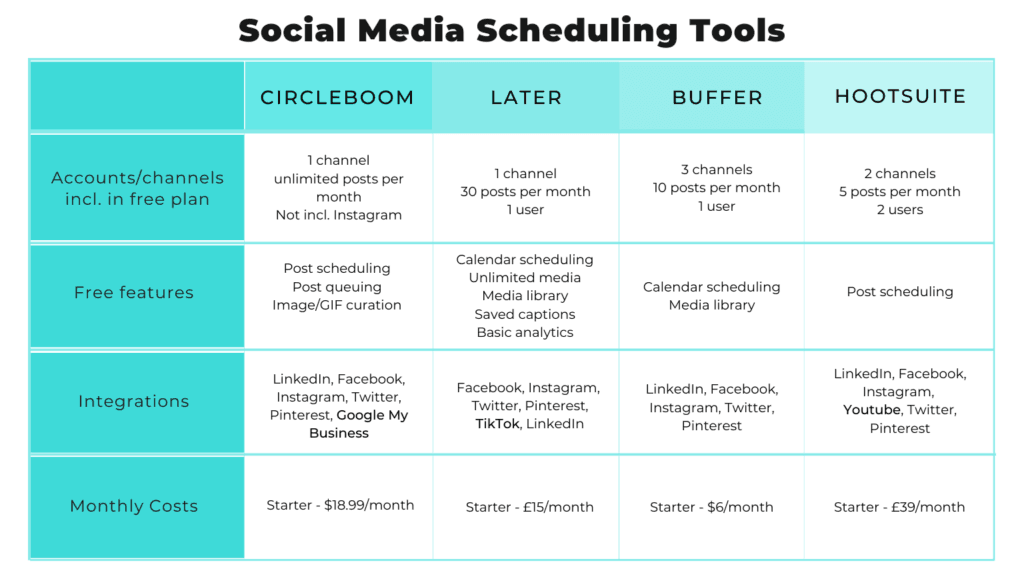 ---
Depending on your main goal and focus for your social media planning, one of those social media scheduling tools might be more suitable than the other. So here's a more detailed comparison.
Circleboom Publish – the all-in-one solution
Circleboom Publish offers you the tools you need to create, design, automate and schedule your posts across all main platforms. It's great for managing various accounts from one dashboard.
You can simply design your posts using templates, images, gifs and other visual elements through their built-in extensions: Canva, Unsplash and Giphy.
In addition, the Circleboom smart queue scheduling allows you to set time intervals to auto-publish your content continuously.
Later – the visual, Instagram-focused solution
Later is very intuitive to use as it allows for visual planning and scheduling. You can easily drag and drop your images on the calendar to schedule them and store them for reposting in your own library.
One thing to keep in mind, all posts have to include an image, so Later is great if your main focus is on Instagram. Their paid plan also offers hashtag suggestions, first comment option and story posting.
Besides, their LinkIn.bio feature allows you to direct traffic from your account to your website.
Buffer Publish – the small business solution
Buffer Publish is a great tool for smaller businesses as it's very straightforward to use across all platforms. You can create custom schedules for each platform and profile or use the preset publication times. You can also easily manage all channels together in the calendar view.
However, if you're interested in analytics and social monitoring, you need to buy add-ons.
Hootsuite – the analytical solution
Hootsuite can be described as the all-in-one tool for scheduling, monitoring and analytics. It is quite a complex platform with a big focus on the analytical part to allow for a better overall social media management.
Their overview dashboard helps to monitor all channels and allows for direct interaction (reply, like, comment) with the audience from there. You can also build custom reports for each channel. 
Hootsuite offers a wide range of team management and collaboration options and integrates with over 150 apps. This is why it's mostly used by bigger businesses. 
If your social channels are already running on autopilot, this gives you time to explore other, more profitable marketing channels like email and SMS. Check out our recently updated Marketing tools to find out what more you can do.