20.6k
new customer records and growing
1,100%
ROI from just 3 marketing campaigns
95%
of customers opt-in to marketing
£9,034
return-to-venue revenue tracked
Overview
Founded in 2021, Society is Manchester's new culinary social adventure and a fresh addition to the city's vibrant cultural space. Society is a hub for street food, featuring the freshest flavours from five independently-owned kitchens, a cocktail bar and a specialist taproom by an independent craft brewery, Vocation. Society has a packed programme of entertainment, featuring a rotating line-up of local and international DJ's.
Society uses Stampede to create a branded guest WiFi sign-up and to capture customer data to grow their mailing list.
The Challenge
Creating a user-friendly, branded touchpoint is vital for brand recognition, customer loyalty and engagement. And collecting compliant customer data is always a challenging task for offline businesses.
Nick Gregory, co-founder at Society Manchester said that "Before we used Stampede I was wrestling with various problems. How to make this a user-friendly and importantly branded experience? And how to gather data in an easy way and act on it?"
In the past, they were mostly advertising their promotions and events via their social media channels and were looking for additional ways to generate awareness and bookings.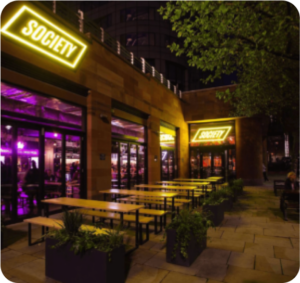 "We've been really pleased with the functionality and the way Stampede integrates all our needs in one easy to use platform. All for great value for money."
Nick Gregory – Co-founder, Society Manchester
The Solution
As they were preparing to open in the wake of lockdown, they discovered Stampede's data capture and marketing solution.
They ultimately chose Stampede for three main reasons according to Nick "Number one, the branding possibilities. Number two it's a hospitality CRM platform and number three it's really good value."
Within six months of implementing Stampede, Society has gathered over 20,600 GDPR complaint customer records. Nick comments that "It's a pretty straightforward WiFi sign-up, very user-friendly. And it creates a branded touchpoint and is not just a sign-up."
Now Society Manchester has started to use the gathered customer data to send out tailored email campaigns. This will allow them to engage with customers, and start a dialogue with editorial content, promotions and events. Their first campaign had a brilliant 40% open rate!
Nick and Society are also one of the first operators to use the new Stampede / Storekit integration "It makes both platforms even more valuable for our business now." Nick was already a fan of the two platforms separately, so to have them connected opens up more opportunities, which they are excited to explore.
Coming Next
Society Manchester is already looking into implementing other features from Stampede, leveraging the possibilities of an all-in-one solution. "I am a big fan of technology, it's the future. You should use all the tools at your disposal to enhance the customer experience and create those dialogues."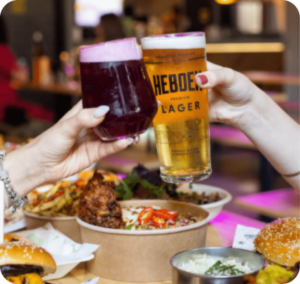 Final Thoughts
"We've been really pleased and amazed with the functionality and the way the product integrates all our needs in one easy to use platform. All for great value for money. Both the product and the team have exceeded all of our expectations by a long margin" Nick Gregory, Co-founder Society Manchester