49.4k
new customer records and growing
86%
of customers opt-in to marketing
All-in-one solution
everything they need in one place
GDPR compliant
database growth with engaged customers
Overview
First Restaurant Group was founded in 2002 and now operates multiple hospitality venues across London. 
Their two flagship restaurants, The Summerhouse and The Waterway, offer customers flavours from around the world in a stunning riverside location. Their large outside spaces are also ideal for private hires and events.
First Restaurant Group uses Stampede in multiple ways to increase their revenue and rapidly grow their business. With the Guest WiFi solution, they can easily capture customer data, which they use to send out segmented and high-performing marketing campaigns to bring back more customers. Meanwhile, the Stampede Reviews feature saves them time by allowing them to accumulate all their reviews conveniently in one place.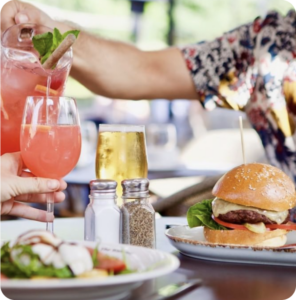 The Challenge
Growing a customer database can present a challenge for hospitality businesses, with many still using inefficient ways to collect data. 
Previously the First Restaurant Group had gathered their data through customers' online bookings and through their mailing list form on the website. However, this didn't deliver the database growth they wanted.
As Oliver Etridge, Operations Director of First Restaurant Group reveals, "We felt that we were missing a trick by not capturing data as people were logging in to our WiFi."
The group was initially attracted to Stampede when they were looking for a smart solution to grow their database. Stampede not only enables them to capture data through their offered Guest WiFi but also to power their direct marketing with gained data insights. Oliver describes that "Stampede looked like a perfect platform for us, well presented and easy to use with good customer support".
"We were missing a trick by not capturing data as people were logging in to our WiFi."
The Solution
Straight after implementing the Stampede Guest WiFi solution they were "collecting much more data, much quicker", as Oliver explains and adds "it has given us a one-stop shop to both capture data and to run marketing from it." 
Now, 18 months later, their database has grown massively to nearly 50k customers which they can segment to build tailored marketing campaigns and foster customer loyalty.
In addition, Oliver mentions that "repeat customers will be automatically recognised when they use the WiFi so they don't have to log in each time they visit the venue". By doing so the Stampede Guest WiFi has also improved their customer experience.
Besides using Stampede to facilitate their data capture, First Restaurant Group is also using Stampede Reviews. With this feature, they can congregate all reviews from major platforms for both restaurants conveniently in one place. 
Oliver commented that "it's also very good at the way a review is automatically triggered once people leave, we really like that part about it." With the automated feedback request, they can save time for what previously has been a manual task, and get more reviews than before too.
Coming Next
Looking ahead, the First Restaurant Group has just started using the order & pay system storekit, which they can seamlessly integrate with Stampede. This opens up even more possibilities to grow their customer list and build targeted campaigns, which they are keen to explore.
"It has enabled us to capture a lot more data and given us a one-stop shop to both capture data and to run marketing from. We like the fact that it does everything all-in-one rather than it being different pieces of software that need to talk to each other. It's a much more seamless process."
Oliver Etridge – Operations Director, First Restaurant Group