A Serious Upgrade
This month we've gotten stuck in to upgrading the Marketing features in the Stampede platform. Here's a quick summary of what's new:
Customer segments to group your customers in to mailing lists
On-Demand emails and SMS messaging, send messages en masse without waiting for triggers
New email templates built in to make it easier and faster to send awesome messages to your customers
Updated navigation to accommodate new features
Preview panel for email HTML builder
Updated Navigation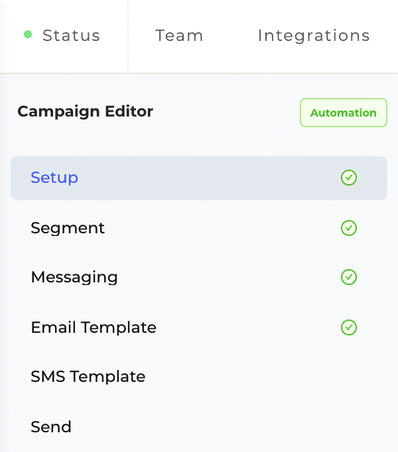 The first thing users will notice is we've made some changes to the way the Marketing and CRM areas of the platform look. There's new menus to host the added features, plus some new icons and refreshed versions of existing ones.
The Marketing area of the platform will navigate slightly differently, with the step-by-step campaign builder down the left rather than across the top.
More on what this all means soon.
Customer Segments
With any platform that provides data based insights, there are always new means of making that data perform better for the user a.k.a. our customers.
In this latest update, we've created Customer Segments to help you communicate better with the customers that visit your venues.
Customer Segments can be built using any information gathered through your splash screen login form. You can create segments based on date of birth, time since last visit, gender, people currently in the venue and more.
Sitting with the CRM area of Stampede, you'll find a number of preset segments we have set up to get you started. You can also create custom segments of your own design.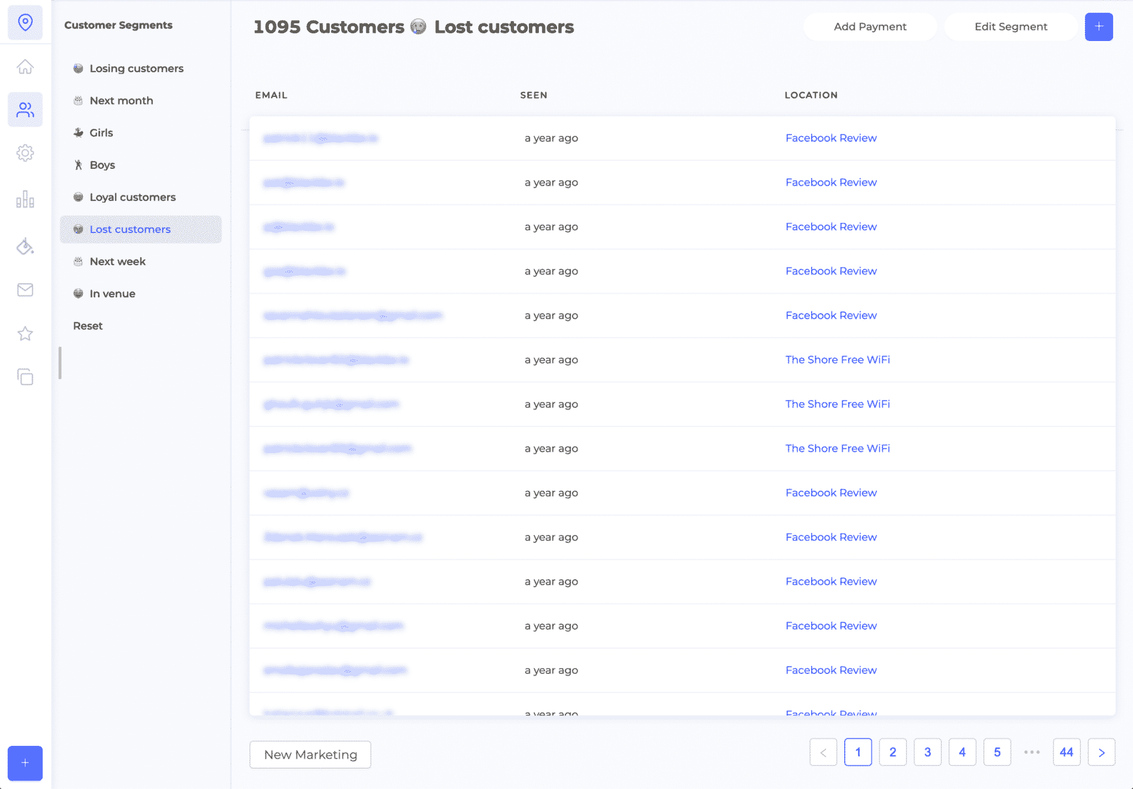 Once created, a segment will update dynamically for any new venue visitors added; those that update their details and people who make a return visit.
What can you do with these new segments? Read on…
On-Demand Email Marketing
This month we're rolling out one of the most significant updates to our Marketing function since it was launched.
Until now, Marketing sent messages to customers when they triggered a certain condition, for example: "24 hours since last connection to venue WiFi". You would have to wait until the condition (time since last connection) is met for an email to be sent automatically.
This latest update allows you to send more typical email marketing campaigns to groups of your customers when you choose. We're calling this On-Demand Marketing. And this is where Customer Segments come in.
You can send on-demand emails – such as newsletters or menu announcements – to your chosen segments keeping anyone and everyone in your database in the loop. You can still use the trigger based, automated emails and text to turn new customers into repeat customers with ease.
When used together, Stampede's Marketing is more effective and efficient than ever as a way to grow your business. Build a relationship with personalised automatic emails. Keep in touch with on-demand emails.
Here's a quick step-by-step:
You pick (or create) a Customer Segment based on some criteria
The platform populates this with your customers who meet the criteria
This Customer Segment is then transferred to the Marketing area
You build an email, either from a ready-made template or a blank. A personalised and relevant message for the segment will make this work really well!
When the email is ready to send, hit the button and it'll go to your customer segment
Watch the return visit numbers in Analytics go up!
We've also taken this opportunity to include 8 email campaign templates to Marketing. The new templates we've added are designed based on successful campaigns we've seen run on our system from actual customers. Just select the one you want, update it to your branding and send away!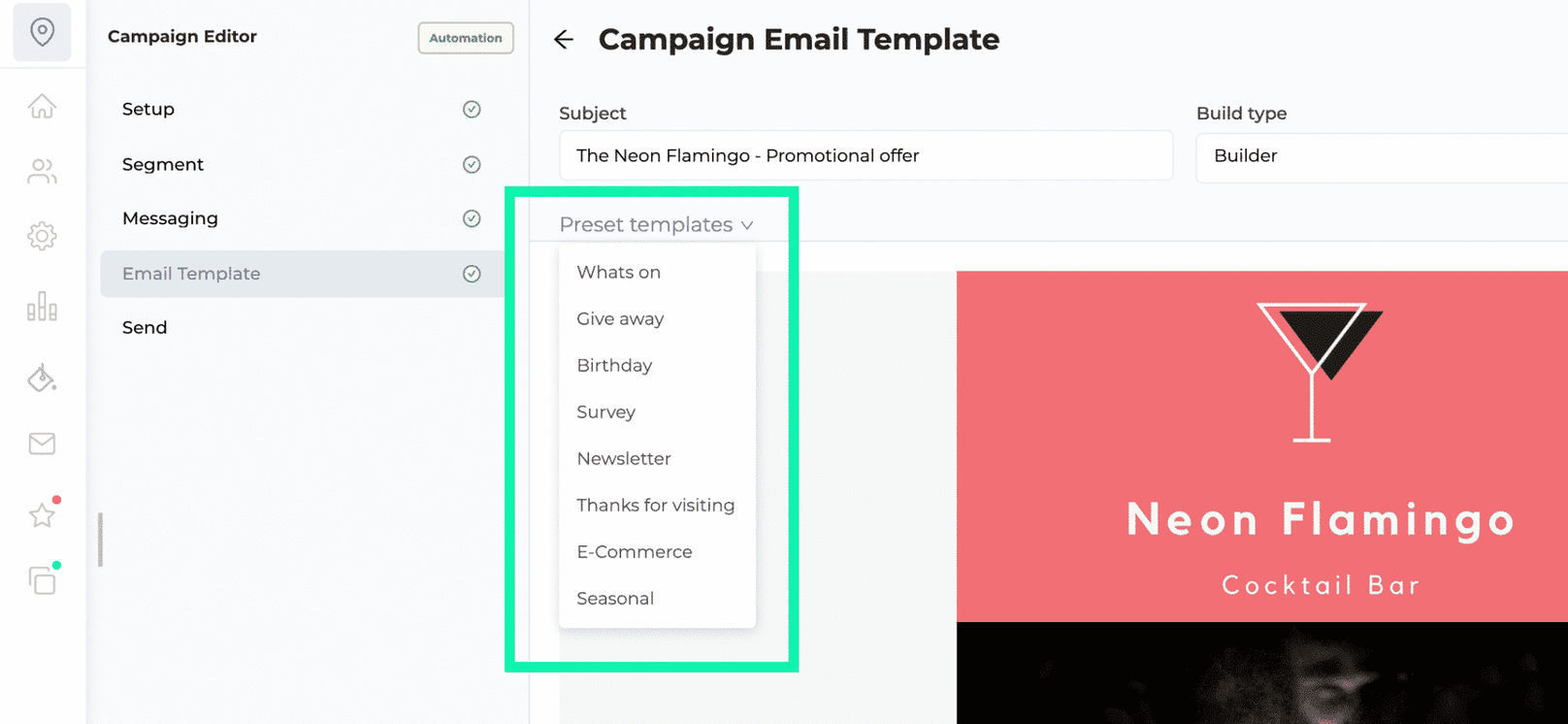 You can still build your own templates with the drag and drop editor or custom HTML. If you want to use the custom HTML option, we've also added a handy new preview panel so you can easily see the changes make as you go.
Bonus tip: Create a dynamic segment of customers based on if they are in the venue and send an immediate message to them!
Rounding Up
This is one of our most exciting updates to version 4.0. We've only scratched the surface of what's possible with these new features, and we look forward to seeing how our users get creative with the new possibilities.
Our Customer Success team are on hand to guide you through the new features, end-to-end. You can reach them on support@stampede.ai, through Live Chat or on (+44) 0131 510 7008
Getting Started – Early Access
We're giving selected customers Early Access to this new feature at no extra cost to get valuable feedback and establish best practises. To sign up for Early Access fill in the form below:
[contact-form-7 404 "Not Found"]